Research project: Virtual historical Reality? – Immersive Darstellungen von Geschichte in Geschichtskultur und Geschichtsunterricht [Immersive representations of history in history culture and history education]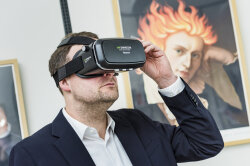 Duration: since 2018

The project focuses on the virtual worlds currently produced by memorials, media institutions, tourism and software companies for formal and non-formal educational contexts. The offers provide opportunities for "time travel", "experiencing the past" or "contemporary witnessing" and are aggressively promoted as the future of media content for the purpose of historical education. Based on these observations, the potential of such media offers will be examined. This is done by combining historical-didactic and historical-scientific perspectives. Through a historical media culture analysis, media forms and formats of immersive representations of history since the 19th century (including panoramas, stereoscopy, models, 3D reconstructions, films, digital games) as well as the associated promise and desire for authentic impressions of the past are described and historically contextualized. The digital virtual reconstructions will be analysed with regard to their authentification strategies, the presented contents, the emotionality, the aesthetic presentation of history and their potentials for historical learning. The development of a historical-didactic concept for the use in formal educational settings such as school history lessons should be a central result of the study.
Further information: Wissenschaftsmagazin Rubin 29 (2019) 1