Duration: since 2020
The coronarchive is a freely accessible, open online portal that welcomes anyone's contribution. Its purpose is to collect, archive, contextualize and exhibit personal memories and memorabilia from the time of the coronavirus pandemic. The archive can include anything that is available in a digital or digitizable format: texts (journals, letters, emails, poems, newspaper and magazine articles, shopping lists, reports, signs, warnings, regulations), photographs, drawings, illustrations, videos, chats, social media posts, voice messages, songs, lectures and anything else that is relevant.

With the coronarchive a central contact point for the documentation of the present is created, which not only allows a retrospective view of the events of the year 2020, but is also available for future research.
Projet partners:
Participation campaign of the Körberstiftung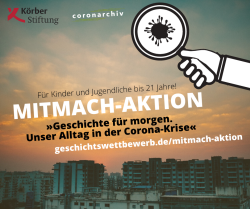 The spread of the coronavirus poses major political, social and personal challenges for everyone. But at some point the pandemic will be over. How will the crisis be spoken of, how will the memory be preserved? The digital coronarchive – founded by the Ruhr-Universität Bochum (RUB) and the universities of Hamburg and Gießen – and the Körber Stiftung are inviting all children and young people to take part in a competition and document how the corona crisis has changed their everyday lives. All submitted contributions will be transferred to the coronarchive. In addition, the Körber Stiftung will award ten book prizes for the best entries and present the winners and their topics. Children and young people up to the age of 21 were able to take part. The closing date for entries was 15 May 2020.
Read more in the press release in the RUB news portal or here.
More than 1,500 children and young people took part nationwide. The jury awarded 50 book prizes among the 1,120 entries. The prize-winning entries can be found on the website of the Körber-Stiftung.