ViRaGe - Virtuelle Realitäten als Geschichtserfahrung [Virtual Realities as Historical Experience]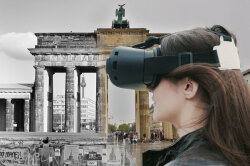 Duration: 2020-2023
In order to make past events "tangible" and "vivid" for future generations, memorial sites are increasingly turning to digital services that are intended to provide a more direct access, for example, to the dictatorship experiences of National Socialism and the GDR. Besides the technical development of the offers, however, didactic elements that could allow a distancing from the presented content as well as a reflection of the offer were neglected. Empirical studies will investigate to what extent VR applications and the reflection of such applications can contribute to the development of competences for critical and reflected participation in historical culture.

The subproject "Historical-didactic processing" deals with the historical classification and historical-didactic analysis of the history-related VR offers that were selected for the empirical studies. It aims to develop materials to support the "emersion" from the virtual world and to identify quality criteria for the production of VR applications for historical-political education.
Editor: Elena Lewers M.A./M.Ed.
Supervisor: Prof. Dr. Christian Bunnenberg
Cooperation partner:
Further cooperation partners:
Funded by: BMBF