Call to the University of Leipzig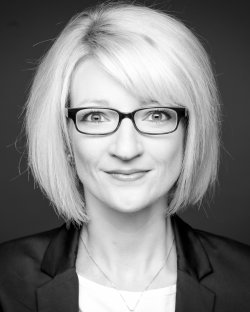 Dr. Kathin Klausmeier has received an appointment at the University of Leipzig as of 01.06.2022.
We congratulate her very much!
Dr. Otto Ruer-Preis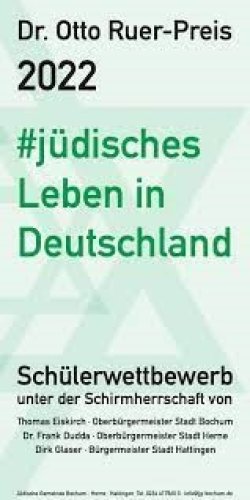 Annual student competition of the Friends of the Bochum, Herne, Hattingen Synagogue
Information and invitation to participate, view or recreate in your own classroom: The Dr. Otto Ruer Prize of the Friends of the Bochum, Herne, Hattingen Synagogue - exciting projects by students that can also inspire the development of your own teaching ideas!
"Founded in 2015, the Dr. Otto Ruer Award honors the best contributions to the student competition on the topic of #Jewishlife. The competition archive shows what great entries have already been submitted and awarded prizes in the past. Take a look at how great young people have tackled this topic." (Source: Homepage)
The team of the RUB History Didactics wishes many good ideas and is looking forward to exciting ideas in the future together with the circle of friends - which can also be (further) developed for the Alfried-Krupp Schülerlabor of the RUB or for the practical semester.
2022 Peace ride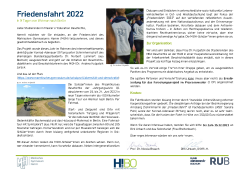 In 9 days from Weimar to Berlin
And this is the plan: https://www.maerkischesgymnasium.de/schulprofil/diversität-und-demokratie
You can find all the information in pdf format here.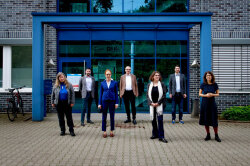 Professionalize police and teachers against anti-Semitism
Public servants are supposed to counter anti-Semitism, but so far they have hardly been adequately prepared for this. A new research network is now addressing this issue.
What knowledge should future public servants in schools and the police have in order to actively counteract anti-Semitism in their working environment? And how can their level of knowledge on the topic, which is also linked to individual attitudes, be surveyed and measured? What kind of argumentation training can help to professionalize the necessary skills of the target group already during training? These questions are being addressed by the interdisciplinary team of the EMPATHIA³ research network, led by Prof. Dr. Nicola Brauch, history didactician at the Ruhr University Bochum (RUB). As one of ten nationwide projects, it is funded by the Federal Ministry of Education and Research in the funding line "Current Dynamics and Challenges of Anti-Semitism" for four years. The network will begin its research work at the beginning of October 2021.