News
INFORMATION ON COVID-19
Ruhr-Universität Bochum and all its facilities will switch to emergency operation from Wednesday, 18 March 2020, until further notice in order to make an effective contribution to slowing down the ongoing corona pandemic. Therefore, the MA EELP office is closed. Marcus Reinecke, programme coordinator EELP, will work at home. All consultations, questions, information will be carried out via Email (marcus.reinecke@rub.de). We will inform our students about changes of the situation at the Ruhr-Universität Bochum and the start of lectures, exams, ... immediately via Email. All relevant information of the RUB you will find here.
FIRST GRADUATE IN MA DOUBLE DEGREE PROGRAMME PELP/ EELP
Gerry Satria Simanjuntak from Indonesia successfully completed as the first graduate the MA Double Degree Programme PELP/ EELP in February 2020. Within his semester abroad at the University Graz in Austria Gerry studied with focus on philosophy and political science and developed his research project. "In the first and second semester, we - the students - are still adapting to how the programme works and trying to connect all the materials that we learned. But in the third semester you really got to know what your studies want you to learn and what to do in future. And I figured all of it out in Graz - luckily." Back from Graz he wrote his Master's thesis on "Rectifying Global Coffee Supply Chain - Who Bears the Greatest Responsibility". The MA study programme EELP congratulate Gerry Satria Simanjuntak on his Master's degree!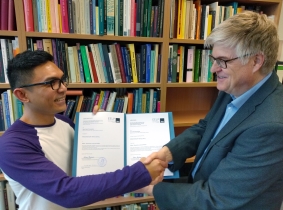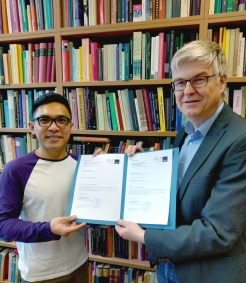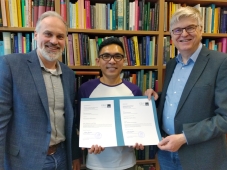 Gerry Satria Simanjuntak; Prof. Dr. Klaus Steigleder (director of MA EELP); Marcus Reinecke (coordinator of MA EELP) hand over the Master's degree certificates.
LECTURE SERIES ETHICS - ECONOMIC , LAW AND POLITICS
winter semester 2019/20: Wednesday, 6:15 - 7:45pm, GA 03/ 49 (dowload: programme)
MA EELP at MasterPlan 2019

Om May, 24th 2019 interessted BA students received a lot of information at the EELP exhibition stand at the Master's fair MasterPlan 2019 at the Ruhr-University Bochum.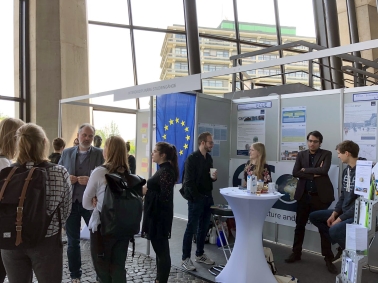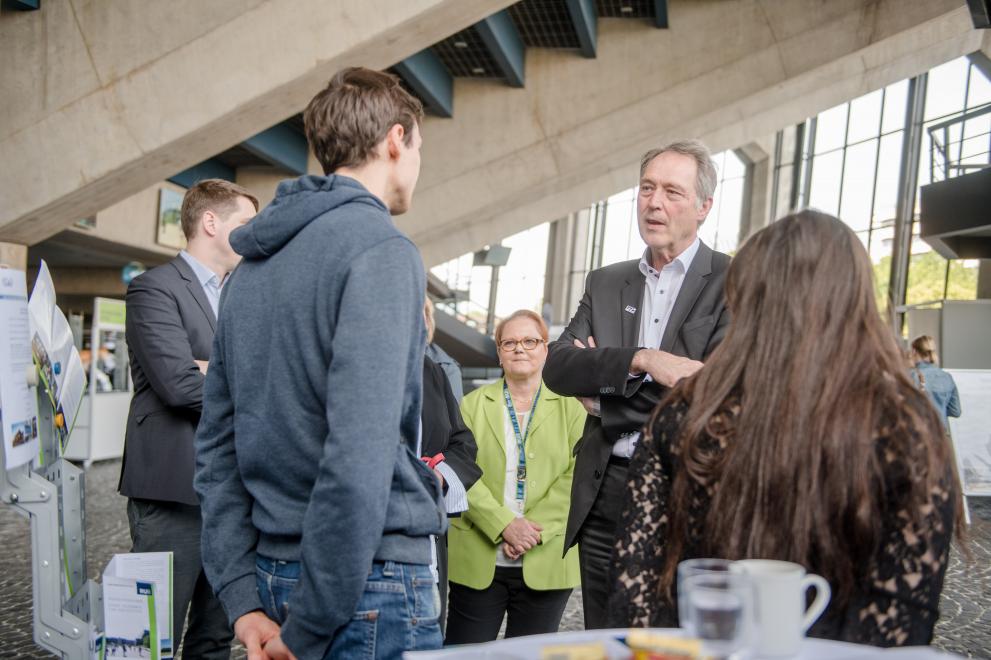 © Reinecke © RUB, Marquard
NEW: MA DOUBLE DEGREE PROGRAMME PELP/ EELP
Since winter semester 2018/19 we offer the students of the MA EELP to study a semester abroad at the Karl-Franzens-University in Graz/ Austria within the Double Degree Programme PELP/ EELP. The goal is to obtain a MA degree from both universities. Our partner programme MA Political, Economic and Legal Philosophy is deeply connected with the curriculum of the MA EELP, means that the reseach oriented in-depth module could be studied in the 3rd semester at the University in Graz. The MA thesis as the final exam will be supervised from professors of both study programmes. Each year we offer to our EELP stduents a maximum of 5 study places at the university in Graz.
PAST EVENTS

Speech: Henry Shue "Distant Stranger and the Illusion of Separation: Climate, Development, and Disaster"
On Wednesday, 17th of June 2015, Prof. Dr. Henry Shue from the Merton College, Oxford University gave his public lecture on the topic "Distant Stranger and the Illusion of Separation: Climate, Development, and Disaster".
Henry Shue, is an USamerican philosopher and professor for political science and international relations at the Oxford University. His contributions to human rights theory as well as to normative problems of climate change since the 1990ies make him to one of the most important living moral philosopher. His influence reachs out far beyond the debates in philosophy and political science.
Speech: Sven Ove Hansson "Can we manage risks ethically?"
On Wednesday, 25th of June 2014, Prof. Dr. Sven Ove Hansson from the Royal Institute of Technology in Stockholm gave his public lecture concerned with the question "Can we manage risks ethically?"

Speech: Prof. Dr. Thomas Pogge
On July 1st, 2013 Prof. Thomas Pogge gave a public talk on the "Health Impact Fund".
Thomas Pogge is Professor of Philosophy and International Affairs and Director of the Global Justice Program at Yale University. His research focuses on issues of justice, poverty and health.
The "Health Impact Fund" is a proposed way of paying for pharmaceutical innovation. It would incentivize the development and delivery of new medicines by paying for performance. This could change health outcomes and the distribution of pharmaceuticals in both the developed and developing world.
Workshop with Prof. Dr. Thomas Pogge on "Health Impact Fund"
On July 2nd, 2013 the Chair for Practical Philosophy and the Institute for Advanced Study in Humanities (KWI) in Essen hosted a workshop with Prof. Thomas Pogge (Yale University) concerning the "Health Impact Fund". The workshop took place at the KWI in Essen (9.30am-4.30pm).