International Symposium 2014

"Genome-enabled approaches towards molecular functions in ecology and evolution"
31 March to 3 April 2014, Bad Neuenahr, Germany
+ + + Online registration is now closed + + + Online registration is now closed + + +

Meeting information
Conference venue: Steigenberger Hotel, Kurhaus (next to hotel buildung), Bad Neuenahr (Website | Google Maps)
Beginning: 31 March, 3 pm beginning of session; registration opens 1 pm
End: 3 April, around 1 pm
Emergency Hotline: +49 (0)151 16725687
Here you find some documents connected with the meeting:
Please note that the First International ADAPTOMICS Symposium from March 31 to April 3 2014 will be held as an international conference. All talks and poster presentations should be held as is common at conferences. Unfortunately, there can be NO panel review with proposal presentations for the 2nd round proposals. Instead, the panel will meet in Bonn. In addition, some members of the review panel - but not all of them - will be present at the Symposium.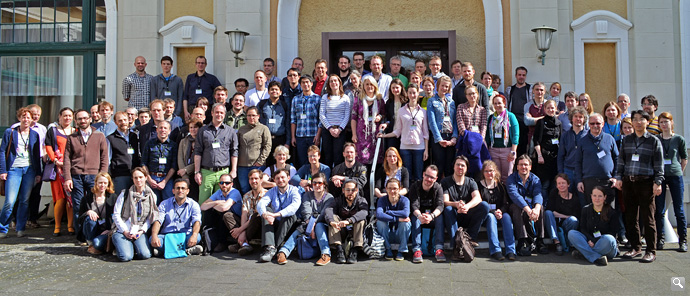 Maria Albani - confirmed
Kirsten Bomblies - confirmed
Marcel Dicke - confirmed
Kathleen Donohue - confirmed
Brandon S. Gaut- confirmed
Beverley Glover - confirmed
Saskia A. Hogenhout - confirmed
Frank Johannes - confirmed

Juliette de Meaux - confirmed
Tom Mitchell-Olds - confirmed
Caroline Müller - confirmed
Magnus Nordborg - confirmed
Ophélie Ronce - confirmed
Laura Rose - confirmed
Fabrice Roux - confirmed
Outi Savolainen- confirmed

Maud Tenaillon - confirmed
Katja Tielbörger - confirmed
Xavier Vekemans - confirmed
John Willis - confirmed
Andreas Weber - confirmed
Detlef Weige l- confirmed
Alex Widmer - confirmed
Steven Wright - confirmed
1. Mating, reproductive barriers and speciation (31 March)
2. Genomic and epigenetic variation (1 April)
3. Adaptation to abiotic factors and life history traits (1 April)
4. Functions of alleles underlying plant adaptations (2 April)
5. Population genetics and evolutionary ecology (2 April)
6. Between-organism interactions (3 April)
STEIGENBERGER HOTEL
BAD NEUENAHR
Kurgartenstraße 1
D-53474 Bad Neuenahr
Fon: +49 (0) 2641 941-499
Fax: +49 (0) 2641 941-413
Email
Website | Google Maps
Booking form (german)
EZ 99 EUR including breakfast
bookingcode: "Adaptomics"
deadline: 30 January 2014
RINGHOTEL GIFFELS
GOLDENER ANKER
Mittelstrasse 14
D-53474 Bad Neuenahr-Ahrweiler
Tel: +49 (0) 2641 804-0
Fax: +49 (0) 2641 804-400
Email
Website | Google Maps
EZ 64,80 EUR
DZ 114,30 EUR
bookingcode: "Adaptomics"
deadline: 15 February 2014
HOTEL KRUPP
Poststrasse 4 (pedestrian zone)
D-53474 Bad Neuenahr-Ahrweiler
Tel: +49 (0) 2641 944-0
Fax: +49 (0) 2641 79316
Email
Website | Google Maps
EZ 62,00 EUR
DZ 124,00 EUR
bookingcode: "Adaptomics"
deadline: 15 February 2014
registration for invited speakers
submit an abstract
registration
Registration
Registration is now open. Registration will close when the maximum number of participants is reached, or alternatively on 30 January 2014.
Registration Fees: Industry: 615 €, Group Leader/PI: 400 €, Postdoc: 350 €, Student (PhD or other): 300€.
IMPORTANT: For groups currently funded by the SPP1529, PIs and lab members (up to three persons in total) are asked to register here. A password is required (see email). Additional participants are welcome: please register through this link or the green button above.
Abstracts
Abstracts may be submitted until 31 January through this link or via the red "Submit an abstract" button.
Accommodation
We reserved rooms at several hotels including the meeting site (Steigenberger). Links and information are available below, or on the registration page (left side of green bar at the top).