DI-Multimode Atomic Force Microscopy (DI-Multimode AFM)
A multimode AFM manufactured by DI-Instrument is the highest resolution, commercially available scanning probe microscope (SPM). It is a useful instrument for atomic-scale resolution imaging of the material surfaces. Different materials of interest for instance thin films, biological samples, insulators, metals and polymers can be investigated by means DI Multimode AFM. So called Multi-mode device provides three different measurement modes such as Scanning Tunneling Microscopy (STM), Tapping and Contact AFM. Additionally, it offers very simple and user friendly set-up for sample and cantilever holding. Fig. 1a and 1b show the DI-multimode set up and AFM mode measuring head along with sample and tip holder respectively. Sample preparation is quite easy; however, sample size is restricted to approximately 1 square centimeter.
Currently, various practical courses viz. IFSC (Interface Surface Chemistry), SPM and however, the bachelor studies are followed at this machine.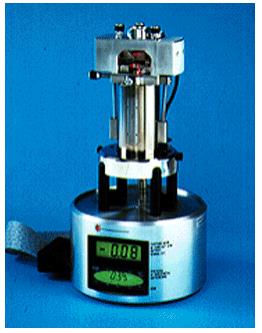 Abb.: 1a
Abb.: 1b