4th International GABA Symposium in Leuven, Belgium

In Leuven, Belgium, Stefanie Heba spent two days of scientific discussions and discussions on GABA spectroscopy.

More than 70 scientists from all over the world exchanged their findings.
congrats!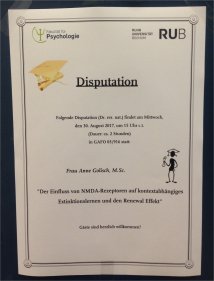 She made it!
Congratulations and all the best to Anne, who finished her PhD in Psychology on August, the 30th.


Myo-day 2017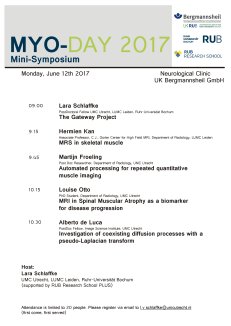 Our group is proud to host the first Myo-Day on Monday, 06/12/17.
Attendance is free of charge, but limited to 20 people, so please register
Download Flyer


new SFB starts

On May 25, 2017, the DFG Senate Commission for SFBs decided to set up a new SFB in Bochum: the SFB 1280 Extinction Learning was officially founded! The new SFB consists of 19 project teams. On board are psychologists, physicians, theoretical neuroscientists and biologists of the RUB and from Essen, Dortmund and Marburg.