Map for arrival by car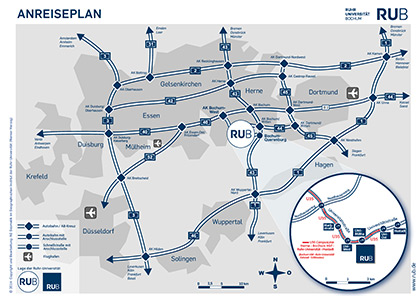 ---
Recommended route
Motorists can reach the Ruhr-Universität easily via Germany's – and especially North Rhine-Westphalia's – dense motorway network. The fastest route is that via the motorway junction Bochum/Witten, where the motorways A43 and A44 meet. Simply take the exit for Bochum-Querenburg, follow the signs for "Ruhr-Universität" and, once there, look for the (electronic) information boards.
Car sharing
Are you looking for car sharing opportunities? The RUB recommends to check out web portal "Pendlerportal". Here, you can look for or advertise car sharing opportunities. Go to webseite http://www.pendlerportal.de/
Map for parking at the RUB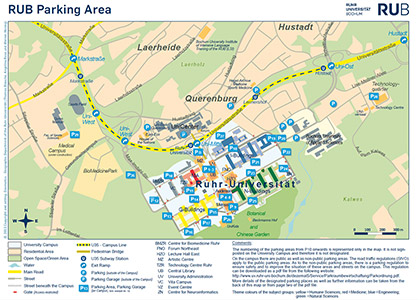 Map for parking at the RUB to download as pdf
---
Address for your satnav
Bochum - Universitätsstraße - 150
Alternatively, you can also enter the names of the freely accessible campus streets: I-Nordstraße, N-Südstraße, G-Südstraße, M-Nordstraße.
---
Further information
---
Disabled parking space for employees and students