Bike rental stations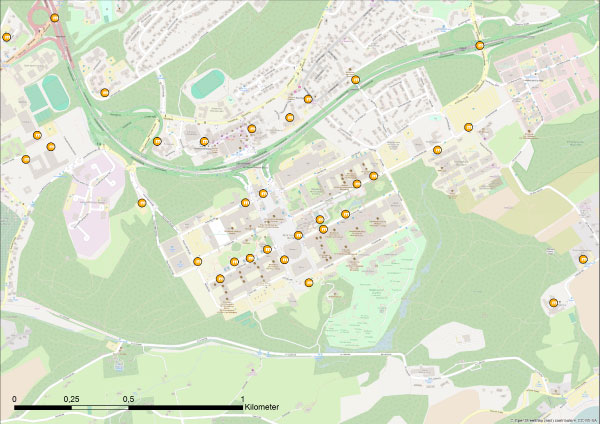 Since the summer semester 2013, you can cycle from the Faculty of Sport Science to the CASPO and from the HZO to Hustadt even if you don't own your own bike: 180 rental bikes are available at 15 bike rental stations.
This is how it works
1. Registration
Prior to renting the bike for the first time, you will have to register via phone (+49 030 69205046) or via the Internet. As partner select "Ruhr-Universität Bochum". Complete the registration process by clicking on the "zahlungspflichtig bestellen" button.
2. Renting
You can rent a bike 24/7 all the year round at the electronic station terminal, via phone (+49 030 69205046) or via the nextbike app. Simply put in the bike registration number, and a code will be send to you with which you can unlock the combination lock. You can use the rental bike as long as you like, using the same code to unlock it after every stop.
3. Returning
In order to return the bike, lock it at any Metropolradruhr station, press "Rückgabe" ("return") at the station terminal or in the app or call the hotline. You can rent and return a rental bike at all Metropolradruhr stations in the ten Ruhrgebiet cities that participate in the rental programme. Should a station be full, you can leave the locked bike next to it. Should you return the bike by leaving it in an unauthorised spot, you will be charged a return fee.
Prices
For students and staff
For RUB students and staff the respective first hour is always free of charge, even if you use the bike on several separate occasions in the course of one day. Subsequently, 50 cents are charged per half hour or part thereof, 5 euros for a whole day. Up to four bikes may be registered with one account, one of them at a reduced rate.
One-off registration with a RUB email address (as partner select Ruhr Universität Bochum).