Applications and Services
Analysis
On-site analysis of plasma process problems, i. e. by optical methods.
RF measurements and analysis of process instabilities, EMC analysis and evaluation of newly developped devices
Plasma and process diagnostics by
- Invasive methods: By probes, as depicted on the right-hand side, relevant process parameters like electron density and temperature, potentials, EVDF and others can be investigated spacially resolved. Time series measurements are also possible.
- Non-invasive methods usually span optical emission and absorption spectroscopy (also time-resolved). They can deliver additional information on the neutral gas temperature.
There are numerous surface diagnostics available, some of them are XRD, XPS, AFM, SEM, EDX, surface energy analysis, FTIR, microscopy, profilometer, ...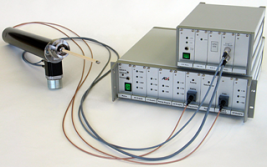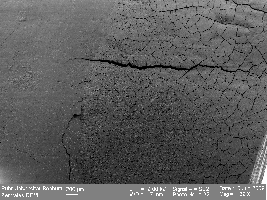 Research and Development
Development of thin coatings with functionalized film properties such as e. g.
- optically active coatings designed for dedicated spectral wavelengths
- optical absorber coatings
- hard ceramic coatings for enhancing wear resistance of strongly utilized components
- gas diffusion barrier coatings for plastic-like materials
- thermal barrier coatings
- ...
Planning and development of new specialized plasma sources for multiple application areas (coating, etching, cleaning ...) within the surface modifying industry
- atmospheric plasmas (jets, arrays, DBDs), ICP, CCP, VHF, micro wave
Process development on your existing machines (PVD, PECVD, ...), process diagnostics and process control using a large pool of plasma diagnostics
- surface cleaning processess
- adhesion promoting layers for special thin film systems
- bio compatible coatings
- ...
Modelling and simulation of technically relevant plasmas with the aim of understanding process behaviour for developing process adjustments.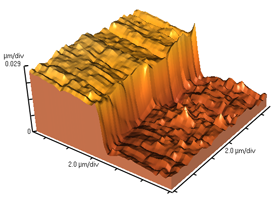 Applications
The application of technically relevant plasmas are manifold. The following list represents a small excerpt from our research portfolio:
Food industry: PECVD thin film process to deposit diffusion barriers on recycling capable packaging materials like PET in order to increase the shelf-live od beverages
Automotive and lighting industry: Development of HID lamps, e. g. for use in cars or optimization of the single lamp manufacturing process steps
Consumer products: Atmospheric pressure plasmas for the pre-treatment of surfaces (e. g. adhesion promotion of paint on difficult surfaces, stimulation and acceleration of wound healing)
Medical industry: Gentle and residue-free treatment of medical goods, e. g. sterilisation of thermolabile materials or deposition of biocompatible coatings
Optical technologies: Anti-reflection coatings, mirrors or absorber coatings
General purpose:
- Wear-resistant coatings like diamond-like-carbon (DLC) or hard ceramic films
- Metallic (also ferromagnetic) thin films as electrically conducting layers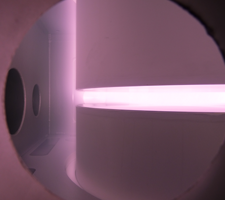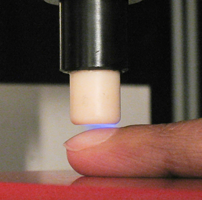 Consulting
If you have further questions to the above topics or even a precise problem, we can advise you by the following means:

Technology and application consulting:
- What is technologically possible and feasible?
- Which kind of plasma process fits to what specific application problem?
- Are there new alternatives to existing processes?
- How can existing process tools be refittet to new process recipes for new surface treatments?
- What are the requirements / specifications for a specific problem?
Planning and design support for new plasma chambers and processes
Individual training courses and presentations on up-to-date plasma technology topics on-site or centrally located on-campus
Workshops on specialized topics as advanced training for nearly finished students and process tool operators
Consulting and support with plasma process control issues
Feasibility studies
Extensive experience with the application, execution and settlement of public funded projects