Events
MRG2 Final Symposium
30. November 2016
Veranstaltungszentrum
Programm
Recent Publications
Staffan Müller-Wille & Christina Brandt (2016):
Heredity Explored. Between
Public Domain and Experimental Science, 1850-1930, Cambridge: MIT Press.
Sørensen, Estrid (2014)
Review 2: "Studying Human Behavior: How Scientists Investigate Aggression and Sexuality, in Science & Technology Studies 27(2): 123-26.
Tuschling, Anna (2016):
Historical, Technological and Medial A priori: On the Belatedness of Media. In: Briankle C. Chang / Florian Sprenger (Hg.): Cultural Studies 29, Issue: Thinking Media and Beyond – Perspectives from Germany, London, S. 680-703.
Wübben, Yvonne (2016):
Büchners Lenz - Geschichte eines Falls.Konstanz University Press
Senior Scientists 2016

Dr. Andreas Sudmann
Andreas Sudmann will join the MRG2 for a research stay in November and Dezember 2016. Until recently Andreas Sudmann was a research associate at the John F. Kennedy Institute for North American Studies (Freie Universität Berlin).

MRG 2 "Spaces of Anthropological Knowledge: Production and Transfer"
Die Mercator Forschergruppe ist Ende 2016 ausgelaufen und aus diesem Grund wird diese Seite nicht mehr aktualisiert. Die Internetpräsenz des Nachfolgezentrums wird demnächst unter CAST
zu Ihrer Verfügung stehen.
Die Mercator Forschergruppe "Räume anthropologischen Wissens" untersucht Transformationen des Wissens vom Menschen aus wissenschaftsgeschicht-licher, philosophischer, literaturwissenschaftlicher, medienwissenschaftlicher und kulturpsychologischer Perspektive. Vier vernetzte Forschungseinheiten fokussieren auf Objekte und Themen aus wissenschaftlichen und kulturellen Wissensbereichen seit dem ausgehenden 19. Jahrhundert, darunter unter anderem die Geschichte zentraler Konzepte der Biowissenschaften, Entstehung moderner psychiatrischer Diagnose- und Klassifikationssysteme, die Mediengeschichte der Emotionsforschung und die Produktion und Zirkulation sozialpsychologischen Wissens in der Medienwirkungsforschung.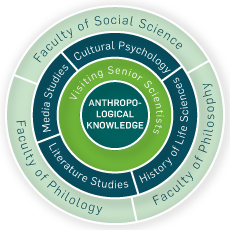 Entwicklungen im Bereich der Bio- und Humanwissenschaften haben das Verhältnis des Menschen zur Technik grundlegend verändert und die Schnittstellen zwischen Mensch und Maschine verschoben. Gleichwohl kann von einer Ära des Posthumanen nicht ohne Weiteres die Rede sein: Das Humane bleibt ein zentraler Gegenstand – sowohl in technischen und medizinischen Wissenschaften der Gegenwart, als auch in verschiedenen Zweigen der historischen Wissenschaften. Diese Tendenzen und Dynamiken werden in der Mercator Forschergruppe mit dem Ziel erforscht, die Historizität, Literarizität, Medialität und Materialität des Wissens aufzuzeigen.

Die Forschergruppe ist international vernetzt und hat regelmäßig Senior Scientists, Postdoktorand/-innen und Doktorand/-innen aus den Partner-institutionen zu Gast in Bochum. An der Ruhr-Universität bietet sie mit ihren Workshops und Semester-Kolloquien zum Thema "Räume anthropologischen Wissens" einen Ort für intensive Diskussionen wissens- und kulturgeschichtlicher Fragen. Die Forschergruppe stellt damit eine fächer- und fakultätsübergreifende Struktur der Ruhr-Universität dar, die sich aktuellen wie historischen Fragen der Humanwissenschaften aus interdisziplinärer und kulturhistorischer Perspektive widmet.