Office Hours
Prof. Dr. Michael Wala
During the summer semester 2022:

During the lecture-free period, office hours will take place on the following dates. Please follow the respective link to register.
Contact
Ruhr-Universität Bochum
Fakultät für Geschichtswissenschaften
Historisches Institut
Prof. Dr. Michael Wala
Universitätsstraße 150
44780 Bochum
Room: GA 5/60
Lockbox: 182 Tel. +49-234-32-24667
Fax. +49-234-32-14083
Michael.Wala[at]rub.de
gna[at]rub.de

Secretariat
Victoria Junkernheinrich
Room: GA 4/157
Tel. +49-234-32-28635
Fax. +49-234-32-14083
bereichssekretariat5[at]rub.de
Information on opening hours
News

INVITATION
to attend the book presentation
OTTO JOHN: PATRIOT OR TRAITOR
On July 20, 2022, Benjamin Hett and Michael Wala will present their new book Otto John: Patriot or Traitor at the Roosevelt House (Public Policy Institute at Hunter College in New York City) and via Zoom.
The discussion will be moderated by Yasemin Pamuk, head of the Cultural Affairs and Science section at the German Consulate General New York.
Detailed information on the event and registration can be found here.

Summer semester 2022
Prof. Dr. Wala's office hours are taking place on Mondays (starting Apr. 4) from 4 to 5 p.m.
In order to sign up for Mr. Wala's office hours please follow the link "Office hours" on the right hand side.
Winter semester 2021/22
After having successfully completed his research semester, Prof. Dr Michael Wala is back at the Ruhr-Universität for the upcoming winter term.
His office hours are taking place on
Mondays
(starting Oct. 11) from
4 to 5 p.m.
In order to sign up for Mr. Wala's office hours please follow the link "
Office hours"
on the right hand side.
Johannes Maria Krickl awarded EAAS Transatlantic Travel Grant: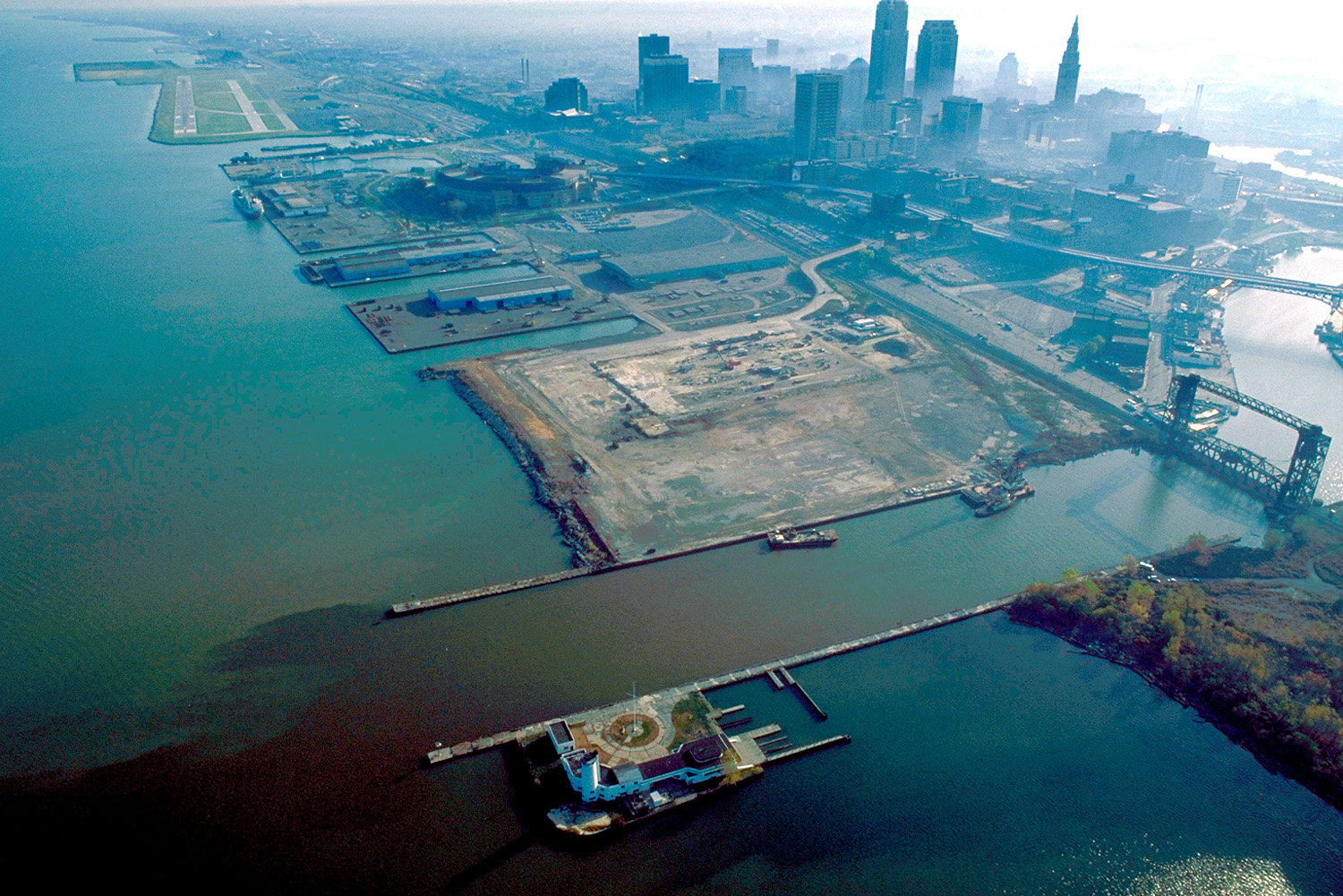 For his research on the recent urban history of Cleveland, Ohio and the city's substantial re-scripting efforts to propel the image of a sustainable Waterfront City, Johannes Maria Krickl was awarded a 2020 Transatlantic Travel Grant funded
by the European Association for American Studies (EAAS).

As soon as measures against the current COVID-19 pandemic will allow travel, Johannes will spend six to eight weeks in Ohio's north.
He aims to collect historical data for his PhD project and to cooperate with
Cleveland State University's History Department and Center for
Public History + Digital Humanities, which will generously serve as his host institutions. Johannes will further present his research at CSU's Maxine
Goodman Levin College of Urban Affairs.
Students publish about women's movement(s)
During the past winter semester (2019/20), together with their students, Prof. Dr. Rebecca Brückmann and PD Dr. Charlotte Lerg created a blog on
"Feminism – Beyond the Waves. Women's movement(s) in history and memory
in Great-Britain and the USA".
This project gave students the opportunity to publish their own texts, to gain experiences in the field of communication of knowledge and finally making their findings available for the general public.
This way biographical portraits of feminists, essays on female suffrage, protest movements and the fight for self-determination of one's own body were created.
An article on the project can be found
here
.
New Research Project: "Das Bundesamt für Verfassungsschutz, das Ministerium für Staatssicherheit und die Spionageabwehr im Kalten Krieg"
Prof. Wala is currently researching the Bundesamt für Verfassungsschutz's (BfV) counterintelligence activities during the Cold War in an independent, critical, as well as context oriented research project. The project is spanning the period between 1950 and 1990, concentrating on the BfV's work against the GDR Ministry for State Security's (MfS) espionage activities. It will encompass an organizational history of the BfV's counterintelligence unit, its integration in the changing political and societal landscape of the Federal Republic as well as in the Cold War's transatlantic security network. Based on this, the operational work of the counterintelligence unit will be analyzed.
Starting in February 2019, the research project will be conducted until July 2021.
Its results will be published.
Additional information can be found here.
During the semesters summer and winter 2019-2020,
PD Dr. Charlotte Lerg
will replace Prof. Wala teaching North American History.
Transatlantic PhD Workshop RUB/ CUNY 2018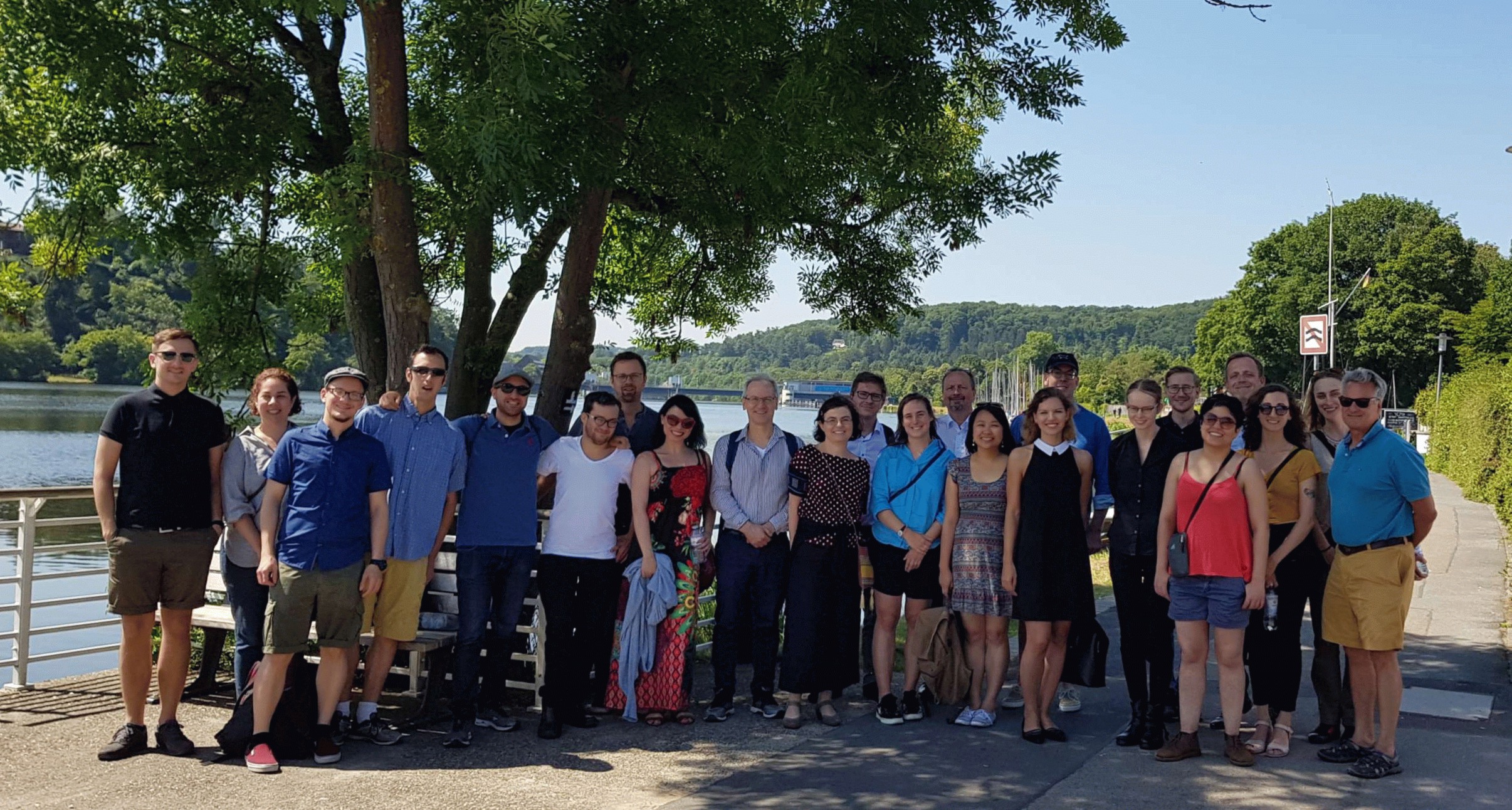 With nine Ph.D. candidates of the Ruhr-University and the Graduate School, City University of New York participating, the "Transatlantic Summer Workshop" took place for the fourth time. Initiated by Professor Michael Wala and his colleagues Prof. Constantin Goschler (RUB, Contemporary History), Prof. John Torpey (CUNY, Graduate Center) and Prof. Benjamin Hett (CUNY, Hunter College) four years ago, this project was financed by the RUB Research School as well as the Max Kade foundation and others. During the past week participants discussed their research projects while addressing the workshop's main topic "Globalization, Nationalism, and Populism in the Transatlantic World". With inspiring lectures and discussions the historian and freelance author Per Leo as well as Steven Midler, historian at the University of Groningen, made a tremendous contribution to the workshop's success.
DFG Research Project
Security, Democracy and Transparency. NADIS, HYDRA and the Beginnings of Electronic Data Network Systems in the Federal Republic of Germany and the USA
From the summer of 2018 on the "Deutsche Forschungsgemeinschaft" (DFG) is financing an extensive research project dealing with data processing systems that secret Intelligence Services conducted from the 1960s up until the 1980s. The project is part of the research focus "Security and the Public" and was initiated by Professor Michael Wala and his colleague Professor Constantin Goschler (Contemporary History). The project's main focus lies on the central conflict in liberal democracies between security agencies collecting private data to fulfill governments' obligation to provide for security, and the publics' demands for protection of their private information existing in liberal democracies. This conflict then results in a strained relationship affecting the publics' confidence in democratic institutions as well as the social and political processes of negotiation about adapting this structural asymmetry of conflicting demands for transparency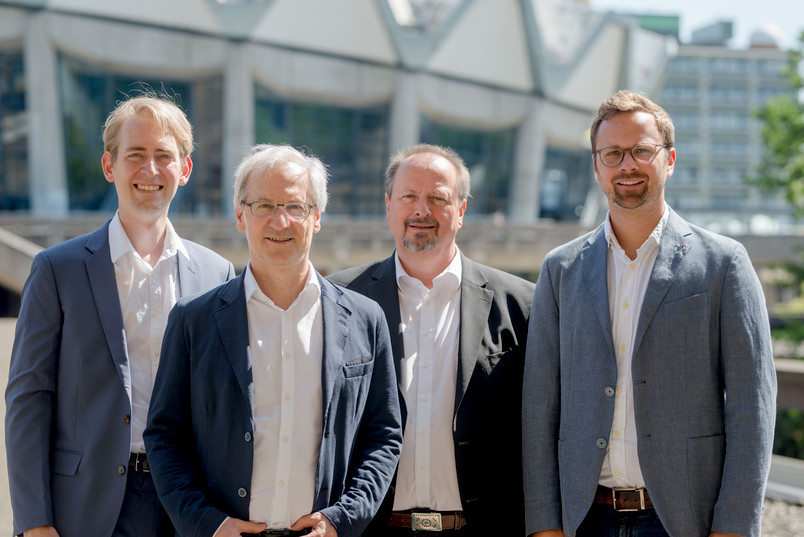 © RUB, Marquard
Dr. Jens Wegener is already working on this project as a PostDoc at the chair for North American History since June 2018. Christopher Kirchberg (Contemporary History) is joining Dr. Wegener in autumn.
Here you can also find the Ruhr-University's press release, a radio interview with Prof. Wala and a newspaper report with Prof. Goschler on the start of the project.
Volkswagen Foundation Grants Research Project
"Scripts for Postindustrial Urban Futures: American Models, Transatlantic Interventions"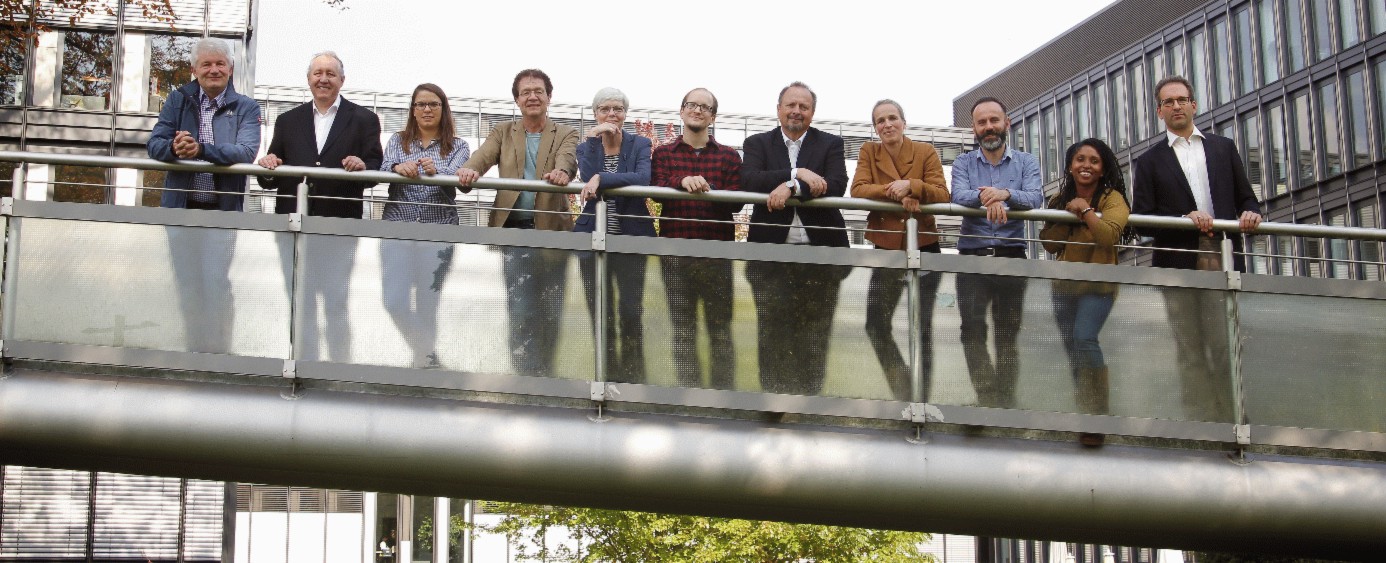 With colleagues from University of Duisburg-Essen (Barbara Buchenau, Jens Gurr, Josef Raab), Ruhr-University Bochum (Kornelia Freitag), as well as TU Dortmund (Randi Gunzenhäuser, Walter Grünzweig), Prof. Wala successfully raised funds for a research project with seven Ph.D. and one Post-Doc positions. Research fellows will be funded by the Volkswagen-Foundation with a grant of €1.7 Mio. over a four-year-period, which will include internships.
The project ist based at the Department of Anglophone Studies at the University of Duisburg-Essen with Barbara Buchenau as its spokeswoman.
They will analyze scripts about history, development, and planning of US-American cities marked by deindustrialization, shrinkage, and demographic diversification. These postindustrial cities will be examined from the perspective of the greater Ruhr Area. The research will concentrate on narrative, figurative, and medial strategies of communes, urban developers, creatives and industries in their efforts for sustainable and socially inclusive urban planning and development.
You can find the press release here.
DFG Research Project
Western Allied Intelligence Services and Former Members of the Waffen-SS, Gestapo and Wehrmacht in the Early Cold War. Cooperation, Networks, Communication Strategies.
The research project, directed by Prof. Wala, North American History with its research focus on "Security and the Public", analyses processes of information acquisition and knowledge construction by American intelligence services with respect to the, at the end of World War II, still obscure enemy USSR. Based on preliminary research made possible by a Mercator Research Center Ruhr (MERCUR) grant, the project will focus on how former members of the SS-, Gestapo, and Wehrmacht utilized their position within the knowledge and interpretation markets during the immediate postwar period to shift threat perceptions from former members of the NS-regime onto Communists and Soviet spies, thus obscuring themselves as possible past and present adversaries. Lutz Heilmann, M.A. will serve as researcher for this project.
New Publication
Jan Hildenhagen: Demokratie als Gefahr für die Republik. Andrew Jackson und warum die USA Tyrannen (nicht) fürchten sollten.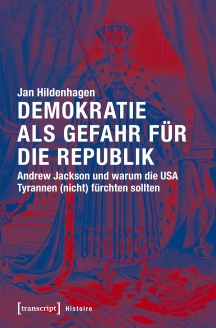 With the Presidency of Donald Trump, the question of how much direct influence the "common people" should have on the political decision-making process is present on both sides of the Atlantic. Yet, the 7th US-President Andrew Jackson had already polarized and was celebrated by his followers as the candidate of the people and savior who would take action against a corrupt elite. His opponents, however, referring to the doctrines of ancient authors and the history of fallen republics as a warning example, accused him of being a danger to the republic. Jan Hildenhagen shows that this politically ambivalent question is not new but has contributed significantly to the democratization of the United States from the very beginning.
Transatlantic Workshop in New York
At the beginning of April the third Transatlantic Workshop took place at the CUNY Graduate Center in New York with eleven participants from Bochum. In context of the topic "Globalization, Nationalism, and Populism in the Transatlantic World" PhD students from both universities discussed their PhD projects with the professors Ben Hett (CUNY), John Torpey (CUNY), Constantin Goschler (RUB), and Michael Wala (RUB). This was accompanied by several presentations, among which was a lecture by Dr. Karen Donfried, President of the German Marshall Fund of the United States, in the German Consulate General in New York.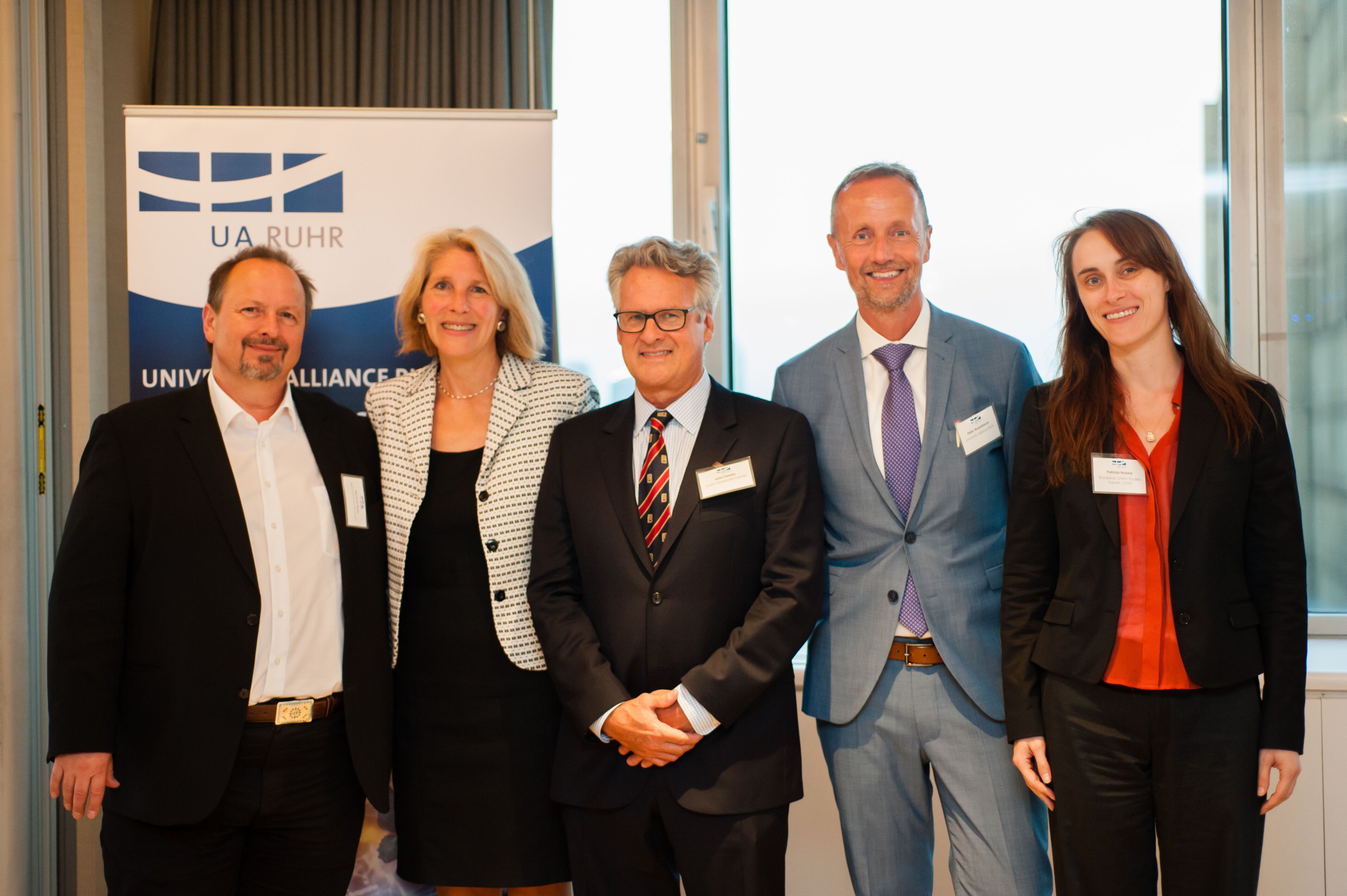 Michael Wala, Karen Donfried, John Torpey (CUNY), Peter Rosenbaum (UA Ruhr), Patrizia Nobbe (CUNY)
Interview with Prof. Wala
Prof. Wala in an interview with Yun-chen Tsai (Phoenix TV, Hong Kong) on espionage and international relations.
You can find the video here.
Conference "Creating and Challenging the Transatlantic Intelligence Community
The international conference "Creating and Challenging the Transatlantic Intelligence Community" which took place from March 30 to April 1, 2017 in Washington D.C. at the Woodrow Wilson Center and the German Historical Institute, can be pleased about a highly positive response. The first and second day of the conference was accompanied by the US-American broadcasting company C-Span, the videos of those presentations have now been published and can be viewed online:
Pictures of the event are now available here.
Information
Calendar
Winter Semester 2021/22
Please note that all the courses are still taking place online.
Hauptseminar: The American Revolution,
Tue 10-12 a.m.(via Zoom).
Oberseminar: The Roaring Twenties,
Tue 2-4 p.m. (via Zoom).
Colloquium: North American History Colloquium,
Mon 6-8 p.m. (via Zoom).
Lecture: 20th Century History of the United States,
Mo 2-4 p.m. (via Moodle).
Current Publications