The teaching mission statement at the RUB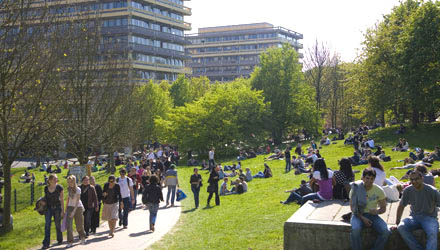 Learning. Performance. Living Community.
We bear joint responsibility
The RUB is an excellent place for learning. All members of the RUB together are responsible for this: students, teachers and the members of the administration.
In our actions we focus on values
Learning, performance, living community: We concentrate our actions on these values. We give a high priority to our teaching. We follow the principles of a unity of research and teaching. We are committed to an open, respectful culture of cooperation and equal opportunities. We stand for the early autonomy of students. We live community beyond the seminar.
We make diversity a priority
The RUB is a large campus university with a broad range of disciplines, an internationally oriented university with an objective of excellence. Here you meet many people and encounter diversity. This is a great opportunity and at the same time a great challenge that we take seriously. We productively include different interests and talents, enable individual learning and show individual development prospects, also in the large fields of study.
We realise diversity
Everyone studying at the RUB can evolve according to individual potential and interests as well as excellently prepare for his or her professional future. Students develop their personal profiles on different development paths: For research, for practice, for disciplinary and interdisciplinary fields of work. Each path is internationally recognised and connective. This is what our BA, MA and doctoral programmes are targeted at. Students are accompanied on their development paths and advised by the members of the universitas: teachers and alumni outline perspectives; in doing so, they keep an eye on the potentials of all students. The development paths include the lifelong learning in later professional contexts. On all paths students develop their competences via research-based learning and with that lay the foundation for a successful career in all later fields of work.
We live up to our objective
Students at the RUB are prepared to deliver high performance and to work autonomously; they accept responsibility for their development. They actively shape courses, provide feedback to teachers and constructively participate in committees of the RUB.
Teachers inspire through professional expertise and arouse curiosity about their field of research; they challenge students through demanding contents, promote their learning processes with suitable didactic methods and assess with competence-oriented and transparent methods of performance appraisal. They make use of feedback and evaluations, are mutually supported by peer group consultation and continually develop their teaching and their teaching competence further.
All members of the faculties and the university administration promote teaching and learning at the RUB via a supporting infrastructure, transparent methods of quality management, a binding and unbureaucratic study and examination organisation, individual advice of students and teachers as well as through professional support in the use of media and the development of innovative teaching formats.
We acknowledge excellent performance
Our culture of appreciation acknowledges excellent performance, no matter whether delivered in research, teaching or study courses. Special commitment in studies and teaching is rewarded with respect and praise.
We live "university"
We are a lifelong learning community which includes future and former students. For us, quality of teaching is not a status but an ongoing process of development in which we inspire each other beyond hierarchies and disciplines, in which we learn together and from one another.