Head of Department
Prof. Dr. Hermann Lübbert
Department of Animal Physiology
Faculty of Biology and Biotechnology
Building ND 5/122
Universitätsstr. 150
44780 Bochum
Germany

Tel: +49 (0)234 - 32-24338
Fax: +49 (0)234 - 32-14189
tierphysiologie@ruhr-uni-bochum.de
Research project: Migraine
About 10% of worldwide population suffer from migraine. Even in face of a long tradition in migraine research our knowledge about possible causes is limited. It is, however, known, that a disequilibrium of serotonin signalling might be a source of migraine attacks.
Acute symptoms of a migraine attack can be medicated with triptans. Triptans are serotonin-agonists that mimic certain effects of serotonin at specific serotonin-receptors. Additionally, prophylactic medication can be provided by serotonin-antagonists like methysergide that is blocking the effect of serotonin specifically at a serotonin-receptor subtype named 5-HT2B.
Unfortunately it is quite complicated to avoid unwanted side effects of these pharmaceuticals by restricting their action to a single type of serotonin-receptor. That remains a difficult job because 14 different serotonin receptor types are currently identified. Moreover, it is unknown why drugs like methysergide have to be taken for several weeks before they get effective.
The development of suitable cell culture and animal models in our department allow deeper investigations on the mode of action of prophylactic migraine medications. That kind of research is able to contribute to a better understanding of the pathology and treatment of migraine.
Open questions:

How do specific antagonists of  serotonin-receptors 5-HT2B  act in the prophylactic medication of migraine?
How does migraine develop? What is the role of the receptor type 5-HT2B in migraine pathophysiology?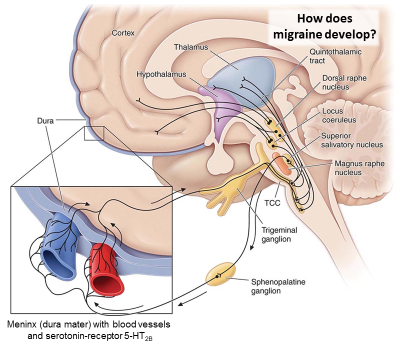 Source: Goadby & Raskin 2015, Migraine and Other Primary Headache Disorders,
http://clinicalgate.com/

contact persons: Dr. Michael Andriske, Dr. Frank Paris, Dr. Xinran Zhu