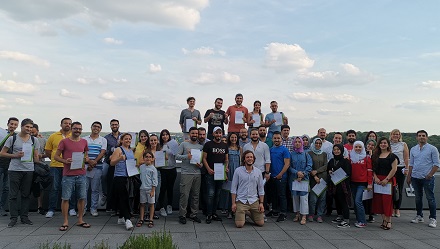 Integra Semester Closing in Summer Semester 2019
In the summer semester 2019, about 150 refugees participated in the Integra programme of the International Office successfully. The programme offers special preparatory courses for prospective refugee students that combine German language courses with a propaedeutic programme.


After completing the examinations, the participants celebrated the end of the semester together with the volunteer language instructors, other volunteers and programme partners at a dinner in the bistro of the Ruhr-Universität. The programme that evening included a magician, live music, and the awarding of certificates!

29.07.2019