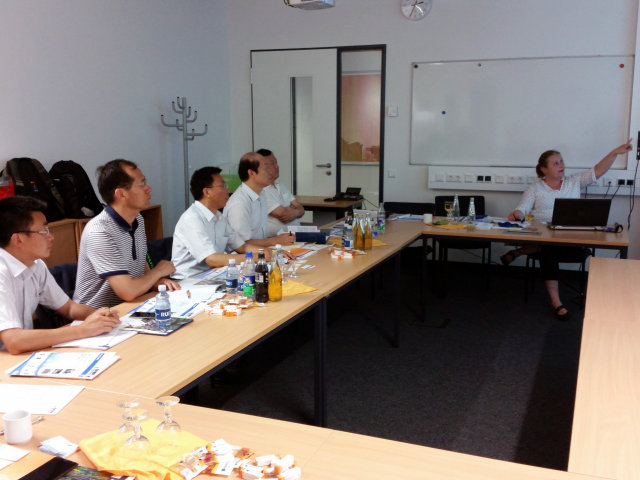 06.07.2015 U+Ö empfängt Delegation aus China

03.09.2014 International German Summer School on Hydrology (IGSH 2014)
Am 17.08 - 30.08.2014 fand die "International German Summer School on Hydrology" (IGSH 2014) unter dem Thema "Hydrogeology of Rural Areas" an der Ruhr-Universität Bochum, organisert durch den Lehrstuhl für Hydrogeologie, statt. Im Zuge der Sommerschule gab U+Ö im Bauwesen eine Einführung zum Integrierten Wasserressourcen Management (IWRM) und dem Umgang mit Geodaten und Geoinformationssystemen. Weitere Informationen zur Sommerschule finden sich unter: http://www.hydrology-summerschool.de/.


12.06.2014 Workshop on "Salt Water Intrusion and Flood Scenarios - Insights from Local Authorities-" in Danang, Vietnam
As a part of the BMBF funded research project LUCCi-Land Use and Climate Change Interactions in Central Vietnam, the Institute of Environmental Engineering and Ecology (eEE) in collaboration with the Vietnam Academy for Water Resources has organized the workshop "Salt Water Intrusion and Flood Scenarios - Insights from Local Authorities-" in Da Nang City, Vietnam. A number of 30 participants from different local authorities of Quang Nam, Da Nang and other provinces in Central Vietnam as well as from the Ministry of Agriculture and Rural Development and Da Nang University of Technology have joined the workshop. Through one working day, the participants have actively exchanged knowledge, experiences as well as the concerns of local authorities on scenario development for floods and salt intrusion in the research site. The workshop has contributed valuable information for the research group in order to develop the scenarios, which are met properly to the demands of the local people.


19.05.2014 EE+E takes part in the workshop "Modelling, Assessing and Preventing Impacts of Climate Change on Urban Wastewater Systems".
The Institute of Environmental Engineering and Management (IEEM) organizes the workshop at the Witten/Herdecke University gGmbH.
The objective of the workshop is the discussion of the huge challenges due to climate change facing cities and communities worldwide and in Morocco. An increase of heavy rainfalls and floods was recorded during the last decades in Morocco. These natural hazards cause considerable damage to urban and industrial infrastructure. Models on different planning levels are needed to evaluate possible impacts of climate change.
The participants from Morocco and Germany discuss the current situation and examine different approaches to solve the problems. The presentation from EE+E (M. Sc. Quoc Viet Trinh) deals with the saltwater intrusion management for agricultural production in the coastal areas of Vietnam.