News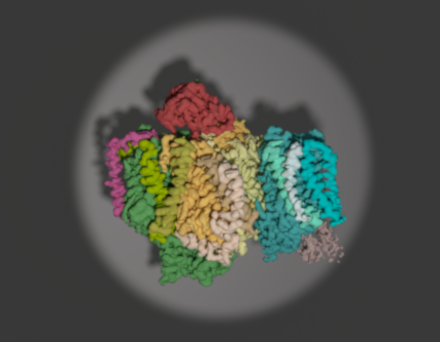 Structural insights into photosystem II assembly
Biogenesis of photosystem II (PSII), nature's water-splitting catalyst, is assisted by auxiliary proteins that form transient complexes with PSII components to facilitate stepwise assembly events. Using cryo-electron microscopy, we solved the structure of such a PSII assembly intermediate from Thermosynechococcus elongatus at 2.94 Ĺ resolution. It contains three assembly factors (Psb27, Psb28 and Psb34) and provides detailed insights into their molecular function. Binding of Psb28 induces large conformational changes at the PSII acceptor side, which distort the binding pocket of the mobile quinone (QB) and replace the bicarbonate ligand of non-haem iron with glutamate, a structural motif found in reaction centres of non-oxygenic photosynthetic bacteria. These results reveal mechanisms that protect PSII from damage during biogenesis until water splitting is activated. Our structure further demonstrates how the PSII active site is prepared for the incorporation of the Mn4CaO5 cluster, which performs the unique water-splitting reaction.
Zabret J, Bohn S, Schuller SK, Arnolds O, Möller M, Meier-Credo J, Liauw P, Chan A, Tajkhorshid E, Langer JD, Stoll R, Krieger-Liszkay A, Engel BD, Rudack T, Schuller JM, Nowaczyk MM (2021) Nature Plants 7, 524-538
Press releases
Press Release (English): 2021-04-22-biology-how-molecular-machine-assembled
Press Release (German): 2021-04-16-biologie-wie-eine-molekulare-maschine-zusammengebaut-wird
Check out this twitter thread for a short summary of the highlights:
Woohoo! Our paper about the structure and function of a Photosystem II biogenesis intermediate is now out in Nature Plants ??(https://t.co/cVE8YYKHow). Thanks again to @SchullerJm, @bengeliscious and the whole team for this awesome collaboration! #photosynthesis #CryoEM https://t.co/puAaf3W9P5

— Marc Nowaczyk (@NowaLab) April 12, 2021
Still not satisfied? You will find more background information in this lecture on YouTube: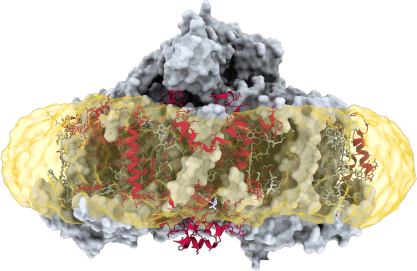 Cryo-EM structure of a functional monomeric Photosystem I from Thermosynechococcus elongatus reveals red chlorophyll cluster.
A high-resolution structure of trimeric cyanobacterial Photosystem I (PSI) from Thermosynechococcus elongatus was reported as the first atomic model of PSI almost 20 years ago. However, the monomeric PSI structure has not yet been reported despite long-standing interest in its structure and extensive spectroscopic characterization of the loss of red chlorophylls upon monomerization. Here, we describe the structure of monomeric PSI from Thermosynechococcus elongatus BP-. Comparison with the trimer structure gave detailed insights into monomerization-induced changes in both the central trimerization domain and the peripheral regions of the complex. Monomerization-induced loss of red chlorophylls is assigned to a cluster of chlorophylls adjacent to PsaX. Based on our findings, we propose a role of PsaX in the stabilization of red chlorophylls and that lipids of the surrounding membrane present a major source of thermal energy for uphill excitation energy transfer from red chlorophylls to P700.
Çoruh O, Frank A, Tanaka H, Kawamoto A, El-Mohsnawy E, Kato T, Namba K, Gerle C, Nowaczyk MM, Kurisu G (2021) Communications Biology 4:304
Press releases
Press Release (English): 2021-03-18-biology-hidden-machinery-photosynthetic-giant-revealed
Press Release (German): 2021-03-18-biologie-geheimnis-eines-fotosynthese-giganten-gelueftet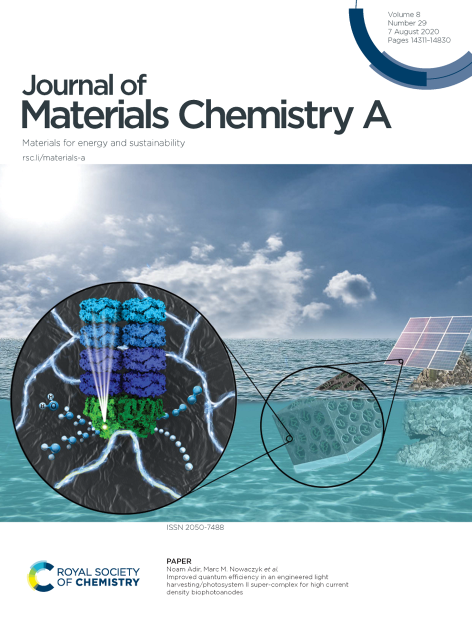 Improved quantum efficiency in an engineered light harvesting/photosystem II super-complex for high current density biophotoanodes.
Photosystem II (PSII) is the only enzyme that catalyzes light-induced water oxidation, the basis for its application as a biophotoanode in various bio-photovoltaics and photo-bioelectrochemical cells. However, the absorption spectrum of PSII limits the quantum efficiency in the range of visible light, due to a gap in the green absorption region of chlorophylls (500-600 nm). To overcome this limitation, we have stabilized the interaction between PSII and Phycobilisomes (PBSs) - the cyanobacterial light harvesting complex, in vitro. The PBS of three different cyanobacteria (Acaryochloris marina, Am, Mastigocladus laminosus, ML, and Synechocystis sp. PCC 6803, Syn) are analyzed for their ability to transfer energy to Thermosynechococcus elongatus (Te) PSII by fluorescence spill-over and photo-current action spectra. Integration of the PBS-PSII super-complexes within an Os-complex-modified hydrogel on macro-porous indium tin oxide electrodes (MP-ITO) resulted in notably improved, wavelength dependent, incident photon-to-electron conversion efficiencies (IPCE). IPCE values in the green gap were doubled from 3% to 6% compared to PSII electrodes without PBS and a maximum IPCE up to 10.9% at 670 nm was achieved.
Hartmann V, Harris D, Bobrowsk T, Ruff A, Rögner M, Frank A, Günther Pomorski T, Rögner M, Schuhmann W, Adir N, Nowaczyk MM (2020) Journal of Materials Chemistry A 8:14463-14471
Press releases
Press Release (English): 2020-06-02-biotechnology-more-efficient-biosolar-cells-modelled-nature
Press Release (German): 2020-06-02-biotechnologie-effizientere-biosolarzellen-nach-dem-vorbild-der-natur
Redox-coupled proton pumping drives carbon concentration in the photosynthetic complex I (PDB 6TJV)
Photosynthetic organisms capture light energy to drive their energy metabolism, and employ the chemical reducing power to convert carbon dioxide (CO2) into organic molecules. Photorespiration, however, significantly reduces the photosynthetic yields. To survive under low CO2 concentrations, cyanobacteria evolved unique carbon-concentration mechanisms that enhance the efficiency of photosynthetic CO2 fixation, for which the molecular principles have remained unknown. We show here how modular adaptations enabled the cyanobacterial photosynthetic complex I to concentrate CO2 using a redox-driven proton-pumping machinery. Our cryo-electron microscopy structure at 3.2?Ĺ resolution shows a catalytic carbonic anhydrase module that harbours a Zn2+ active site, with connectivity to proton-pumping subunits that are activated by electron transfer from photosystem I. Our findings illustrate molecular principles in the photosynthetic complex I machinery that enabled cyanobacteria to survive in drastically changing CO2 conditions.
Schuller JM, Saura P, Thiemann J, Schuller SK, Gamiz-Hernandez AP, Kurisu G, Nowaczyk MM, Kaila VRI (2020) Nature Communications 11, 494
Press Release (English): protein-machine-by-which-cyanobacteria-concentrate-carbon-dioxide-from-the-atmosphere-revealed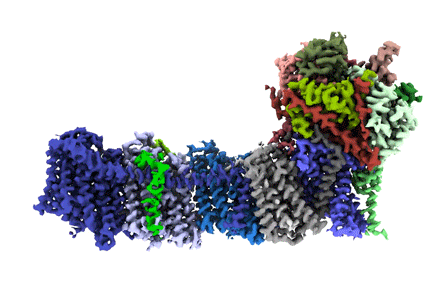 Structural adaptations of photosynthetic complex I enable ferredoxin-dependent electron transfer (PDB 6HUM)
Photosynthetic complex I enables cyclic electron flow around photosystem I, a regulatory mechanism for photosynthetic energy conversion. We report a 3.3-angstrom-resolution cryo-electron microscopy structure of photosynthetic complex I from the cyanobacterium Thermosynechococcus elongatus. The model reveals structural adaptations that facilitate binding and electron transfer from the photosynthetic electron carrier ferredoxin. By mimicking cyclic electron flow with isolated components in vitro, we demonstrate that ferredoxin directly mediates electron transfer between photosystem I and complex I, instead of using intermediates such as NADPH (the reduced form of nicotinamide adenine dinucleotide phosphate). A large rate constant for association of ferredoxin to complex I indicates efficient recognition, with the protein subunit NdhS being the key component in this process.
Schuller JM, Birrell JA, Tanaka H, Konuma T, Wulfhorst H, Cox N, Schuller SK, Thiemann J, Lubitz W, Sétif P, Ikegami T, Engel BD, Kurisu G, Nowaczyk MM (2019) Science 363:257-260
Related content
Perspective article in Science: Ulrich Brandt (2019) Adaptations of an ancient modular machine Science 363:230-231

Press releases
Press Release (English): 2018-12-21-biology-structure-and-function-photosynthesis-protein-explained-detail
Press Release (German): 2018-12-21-biologie-struktur-und-funktion-von-fotosyntheseprotein-im-detail-aufgeklaert
Publications
2021
2020
2019
2018
2017
2016
2015
2014
2013
Kothe T, Plumeré N, Badura A, Nowaczyk MM, Guschin DA, Rögner M, Schuhmann W (2013) Combination of a Photosystem 1-Based Photocathode and a Photosystem 2-Based Photoanode to a Z-Scheme Mimic for Biophotovoltaic Applications. Angew Chem Int Ed 52:14233-14236
Pérez Navarro M, Ames WM, Nilsson H, Lohmiller T, Pantazis DA, Rapatskiy L, Nowaczyk MM, Neese F, Boussac A, Messinger J, Lubitz W, Cox N (2013) Ammonia binding to the oxygen-evolving complex of photosystem II identifies the solvent-exchangeable oxygen bridge (µ-oxo) of the manganese tetramer. Proc Natl Acad Sci USA 110:15561-15567
2012
Rapatskiy L, Cox N, Savitsky A, Ames WM, Sander J, Nowaczyk MM, Rögner M, Boussac A, Neese F, Messinger J, Lubitz W (2012) Detection of the Water Binding Sites of the Oxygen-evolving Complex of Photosystem II Using W-band (17)O ELDOR-detected NMR Spectroscopy. J Am Chem Soc 134:16619-16653
2011
Grasse N, Mamedov F, Becker K, Styring S, Rögner M, Nowaczyk MM (2011) The role of a novel dimeric Photosystem II-Psb27 complex in PSII repair. J Biol Chem 286:29548-29555
Becker K, Cormann KU, Nowaczyk MM (2011) Assembly of the water-oxidizing complex in photosystem II. J Photochem Photobiol B 104:204-11
Nowaczyk MM, Wulfhorst H, Ryan CM, Souda P, Zhang H, Cramer WA, Whitelegge JP (2011) NdhP and NdhQ: two novel small subunits of the cyanobacterial NDH-1 complex. Biochemistry 50:1121-1125
2010
El-Mohsnawy E, Kopczak MJ, Schlodder E, Nowaczyk M, Meyer HE, Warscheid B, Karapetyan NV, Rögner M (2010) Structure and Function of Intact Photosystem 1 Monomers from the Cyanobacterium Thermosynechococcus elongatus. Biochemistry 49:4740-4751
Sander J, Nowaczyk M, Buchta J, Dau H, Vass I, Deak Z, Dorogi M, Iwai M, Roegner M (2010) Functional characterization and quantification of the alternative PsbA copies in Thermosynechococcus elongatus and their role in photoprotection. J Biol Chem 285:29851-29856
Nowaczyk MM, Sander J, Grasse N, Cormann KU, Gomolla D, Bernat G, Rögner M (2010) Dynamics of the cyanobacterial photosynthetic network: Communication and modification of membrane protein complexes. Eur J Cell Biol 89:974-982
2009
2008
Folea IM, Zhang P, Nowaczyk MM, Ogawa T, Aro EM, Boekema EJ (2008) Single particle analysis of thylakoid proteins from Thermosynechococcus elongatus and Synechocystis 6803: localization of the CupA subunit of NDH-1. FEBS Lett 582:249-54
Martinez-Junza V, Szczepaniak M, Braslavsky SE, Sander J, Nowaczyk M, Rögner M, Holzwarth AR (2008) A photoprotection mechanism involving the D(2) branch in photosystem II cores with closed reaction centers. Photochem Photobiol Sci 7:1337-43
2007
Mamedov F, Nowaczyk MM, Thapper A, Rögner M, Styring S (2007) Functional Characterization of Monomeric Photosystem II Core Preparations from Thermosynechococcus elongatus with or without the Psb27 Protein. Biochemistry 46:5542-5551
Klinkert B, Nowaczyk MM, Nickelsen J (2007) Function of Genetic Material: Assembly Factors of the Photosynthetic Machinery in Cyanobacteria. Progress in Botany (Esser K, Lüttge U, Beyschlag W, Murata J, eds) 68: 57-79
2006
Milaslavina Y, Szczepaniak M, Müller MG, Sander J, Nowaczyk M, Rögner M, Holzwarth, AR (2006) Charge separation kinetics in intact photosystem II core particles is traplimited. A picosecond fluorescence study. Biochemistry 45:2436-2442
Holzwarth AR, Müller MG, Reus M, Nowaczyk M, Sander J, Rögner M (2006) Mechanism of electron transfer in intact photosystem II and in isolated reaction centers. Pheophytin is the primary electron acceptor. Proc Natl Acad Sci USA 103:6895-6900
Nowaczyk MM, Hebeler R, Schlodder E, Meyer HE, Warscheid B, Rögner M (2006) Psb27, a Cyanobacterial Lipoprotein, Is Involved in the Repair Cycle of Photosystem II. Plant Cell 18:3121-3131
Nowaczyk M, Berghaus C, Steinhoff,H-J, Stoll R, Rögner M (2006) Preliminary NMR and EPR studies of the 33 kDa protein (PsbO) in solution. Essays on Science (Rashid S, ed), Hamdard Foundation, Pakistan, 184-196
2005
Arteni AA, Nowaczyk M, Lax J, Kouril R, Rögner M, Boekema EJ (2005) Single particle electron microscopy in combination with mass spectrometry to investigate novel complexes of membrane proteins. J Struct Biol 149:325-331
Nowaczyk M, Steinhoff H-J, Rögner M (2005) EPR-spectroscopy of spin-labeled PsbO from Thermosynechococcus elongatus. Photosynthesis: Fundamental Aspects to Global Perspectives" (van der Est A and Bruce D, eds) 246-248
2004
Nowaczyk M, Berghaus C, Stoll R, Rögner M (2004) Preliminary structural characterisation of the 33 kDa protein (PsbO) in solution studied by site-directed mutagenesis and NMR spectroscopy. Phys Chem Chem Phys 6:4878-4881
Nowaczyk M, Ambill M, Lax J, Prodöhl A, Oworah-Nkruma R, Rögner M (2004) Biochemical Analysis of a new 'His-Tag' PS2-Preparation from Thermosynechococcus elongatus. Cell Mol Biol Lett 9:79
Nowaczyk M, Oworah-Nkruma R, Rögner M, Popot JL (2004) Amphipols: Strategies For an Improved PS2 Environment in Aqueous Solution. Biohydrogen III (Miyake J, Igarashi Y, Rögner M, eds) 151-159