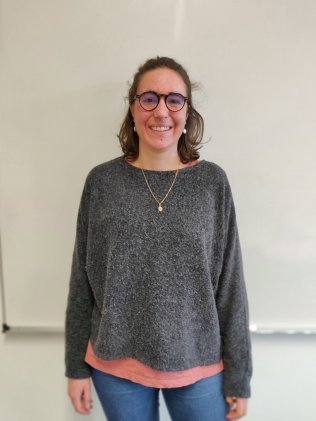 Dr. Maria Bertozzi
Postdoc in the working group of Prof. Dr. Markus Reineke

Faculty of Mathematics
Ruhr-University Bochum
Universitätsstraße 150
44780 Bochum
Germany

Email: Maria.Bertozzi@rub.de
Office: IB 2/123
Phone: +49 (0)234 32-23238

Office hours: by appointment

News
Research focus
Representation Theory (of finite dimensional algebras)
Symplectic geometry
Publications and preprints
Infinite staircases for Hirzebruch surfaces, with Tara Holm, Emily Maw, Dusa McDuff, Grace Mwakyoma, Ana Rita Pires, and Morgan Weiler. In: Acu, B., Cannizzo, C., McDuff, D., Myer, Z., Pan, Y., Traynor, L. (eds) Research Directions in Symplectic and Contact Geometry and Topology. Association for Women in Mathematics Series, vol 27. Springer, Cham. DOI
Momentum map images of representation spaces of quivers, with Markus Reineke. Journal of Lie Theory 32 (2022), No. 3, 797--812.
Recent conferences and presentations
2022
ICRA 2022, Montevideo Uruguay und Buenos Aires, Argentina, August
Talk: Moduli Spaces of Real Quiver Representations
Research school: Symplectic singularities in geometry and representation theory, CIRM Luminy Marseille, April
2021
PhD and Postdoc in Representation theory conference, Aachen (Zoom), January
Talk: Moduli Spaces of Real Quiver Representations
Others
SoSe 2019 Co-organizer with L. Barth and A. Pütz of the Basic Notions seminar.
Reviewer for the RUB Research School.