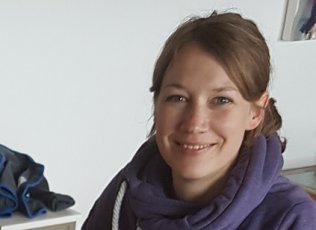 Dr. Magdalena Boos
Faculty of Mathematics
Ruhr University Bochum
Universitätsstraße 150
44780 Bochum
Germany

E-Mail: Magdalena.Boos-math at rub.de
Office: IB 2/149

Office hours:
By appointment.

News
08.2019 - Oberwolfach Leibniz Fellow (together with Dr. Hans Franzen) at MFO
07.2019 - Return grant (DFG)
01.2019 - 06.2019 Visiting researcher at Sapienza University in Rome, Research Fellowship (DFG)
Teaching and Seminars
Winter semester 2017/18
Exercise classes Lineare Algebra I. Wednesday, 12-14, NA 3/24.

Oberseminar Lie-Theorie (M. Reineke, G. Röhrle). Monday, 14-16, NA 2/24.

Oberseminar Algebraische Geometrie (H. Flenner, M. Reineke). Monday, 16-18, NA 2/64.

CV
Boos Cv (186.5 kB)

Publications and preprints
Recent conferences and talks
2019
June 10th. Algebra and Representation Theory Seminar, Tor Vergata, Rome
Talk: "Towards degenerations for algebras with self-duality"

April 30th. Incontri di Algebra e Geometria, Sapienza Universität, Rom
Talk: "Conjugation on the nilpotent cone"

2018
2017