Aufwindkraftwerk
Schlanke Giganten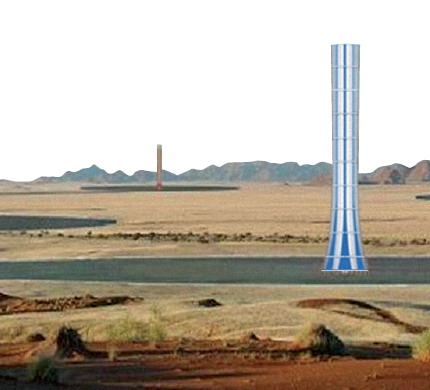 Wie riesige Schornsteine könnten sie einmal – etwa in Wüstenregionen – in den Himmel ragen und die Welt quasi zum "Nulltarif" mit elektrischer Energie versorgen. Wider aller Unkenrufe machen sich verschiedene Gruppen von Ingenieuren heute weltweit dafür stark, eine geniale Idee dank moderner Stahlbetonbau- und Windingenieur-Technologien aus dem Reich der Visionen in die Gegenwart – oder doch zumindest in die nahe Zukunft zu holen.

Schlanke Giganten
(1320164)
SCCN - Solar Chimney Competence Network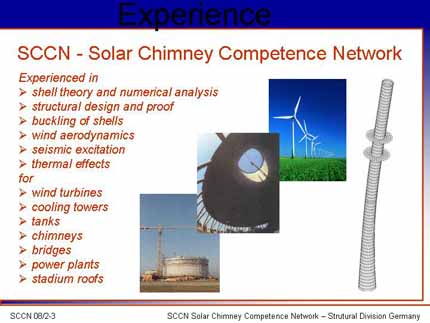 SCCN - Solar Chimney Competence Network
(4036934)
Wind Loading for the Design of the Solar Tower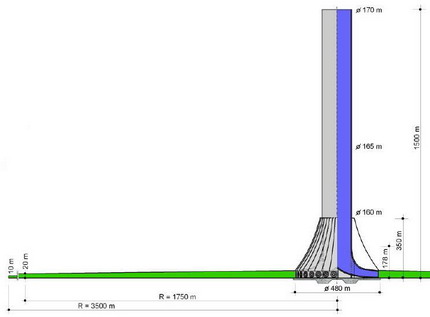 Some 25 years ago Professor Schlaich developed the idea of a power plant which uses the power of the upwind flow in a special chimney. Solar insulation drives the flow. He tested the concept successfully in a comparatively small scale facility in Spain. The obvious advantages of Schlaich's technology have stimulated various project ideas particularly in Australia but as well in Africa. The chimney dimensions range from 1000 m in height and 130 m in diameter up to 1500 m in height and a diameter of 280 m depending on the required power output of 100 to 400 MW. The chimney is basically a cylindrical tube designed as a concrete shell structure. An important component in the structural design is the wind loading. It is the topic of the present paper. The tower height is beyond present experience. Simplified models for the wind load which, based on successful tradition provide safe and economic structures are not applicable. The wind flow in the atmospheric boundary layer, in particular its turbulence must be reconsidered since experimental evidence does not go further than 350m mainly. The authors attempt to develop a set of wind loading data appropriate to the challenge of designing these outstanding structures.

Wind Loading for the Design of the Solar Tower
(122102)