Experimental facilities
Electron microscopy
University of Aveiro:
Scanning Electron Microscope: HR-FESEM Hitachi SU-7 (Hitachi)
Transmission Electron Microscopes: HR-(EF)TEM-JEOL 2200 FS and TEM FE 200kVb (JEOL)
University of Bern:
Hitachi S-3000 N
Ruhr-University Bochum:
Scanning Electron Microscope: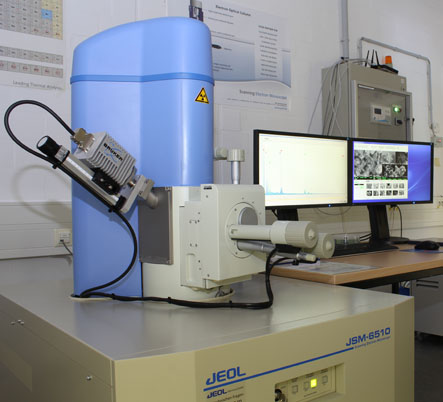 JEOL JSM-6510 Series
The high-resolution scanning electron microscopes of the JSM-6510 series are cost effective and powerful at the same time. An individually configured, well coordinated user interface makes it easy to get oriented quickly and is intuitive to operate. The Smile Shot™ software offers optimal instrument settings for new or unknown specimens.
A range of effective automatic functions (focus, contrast and brightness, astigmatism correction, source and column adjustments) simplify routine work and make it possible even for novices to quickly achieve optimal results.
In addition, the JSM-6510 series' microscopes can optionally be equipped with the completely integrated energy dispersive x-ray analysis system. Here imaging and element analysis are performed on one computer within a single user interface. A simple mouse click within the SEM image suffices to perform an element analysis or an element mapping.
Features
Super-conical lens for a high image resolution even at low excitation voltages
Large specimen chamber for specimens with a diameter up to 150 mm
multi sample holder
Eucentric specimen stage
Smart settings for specimens that must be analyzed frequently
Individually configurable toolbars for repeated function sequences
Live imaging with up to four detectors simultaneously including picture-in-picture
Mixing of different detector signals
Integrated video recording of dynamic processes (.avi format)
Ultra-compact external dimensions and low installation requirements
Resolution up to 3 nm at 30 keV
Back scattered electron detector for topographical scans. 
Air cooled BRUKER EDX detector with the option for line scan and mapping. 
ESR
University of Aveiro:
ESP300E, X band (Bruker).
University of Bern:
Bruker ESR
University of Prague:
Pulse electron spin resonance set-up Bruker (SAFMAT laboratory):
In a magnetic resonance experiment, the position of the resonance lines reflects both local symmetry and degree of lattice distortion around paramagnetic particle. The electron-nuclear interaction determines the nuclear (i.e. chemical) species coupled to the center.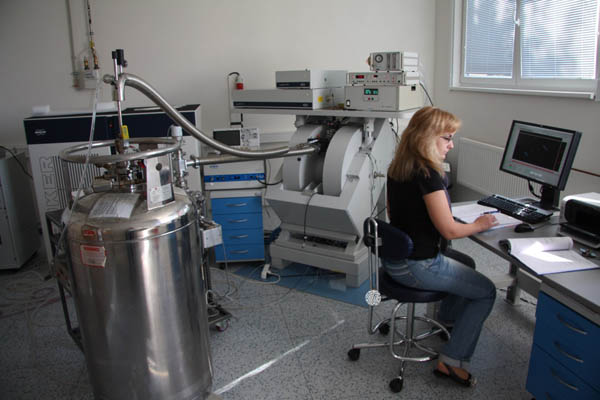 TOP
Optical spectroscopy
University of Aveiro:
Fluorescence inverted microscope. Axiovert 200 (Zeiss).
Fluorescence Intravital Microscope. Fluocert FU-modified (Leica).
Parallel Flow Confocal Chamber. RC-30WA (Warner Instruments).
UV-Vis Spectrometer. V-560 (Jasco).
Fluorescence spectrometer. Cary Eclipse (Varian).
Fluorimeters (2). FLUROLOG-2 and FLUROLOG-CSPC (Horiba Scientific), UV-Vis-NIR (240-1900 nm) steady state and time-resolved photoluminescence (emission and excitation modes); emission decay curves (timescale: 10-2-10-9 s), in the temperature range 12-450 K. Samples: Films, crystals, powders and liquids.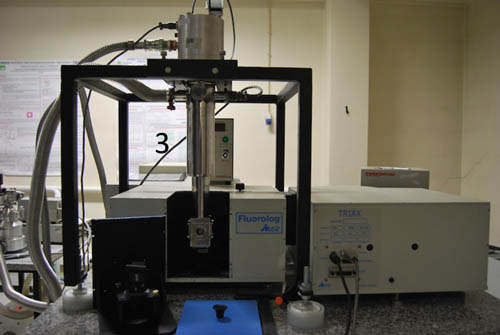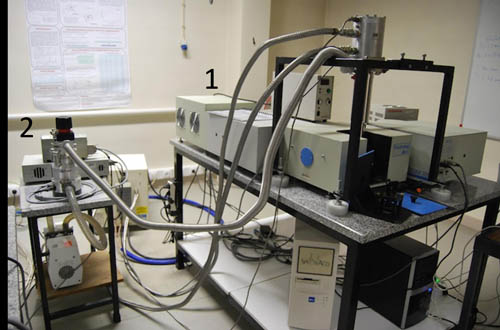 Photographs of the FLUROLOG-2 equipment. (1) FLUOROLOG-2, (2) vacuum system, (3) He-closed cycle cryostat.
UV/Vis/NIR Spectrophotometer. LAMBDA 950 with 150mm Integrating spheres (Perkin Elmer), UV/Vis/NIR (250-3300 nm) reflectance/transmittance in the temperature range 273-373 K. Samples: Films, crystals, powders and liquids.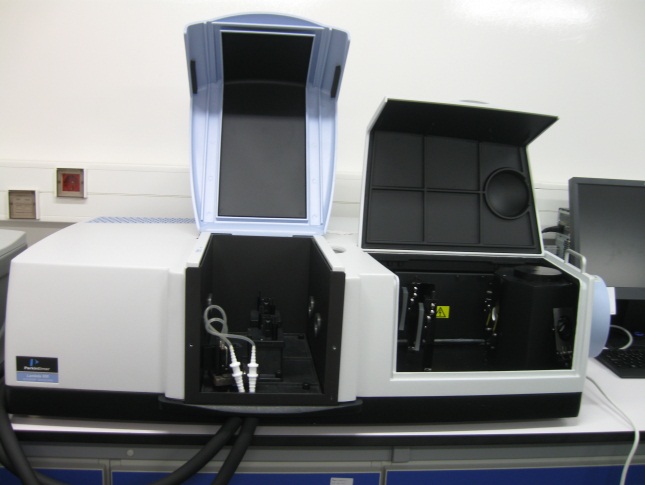 Spectroscopic Ellipsometer. AutoSE (Horiba-Jobin Yvon). Visible (400-800 nm) ellipsometric measurements in the temperature range 273-373 K. Thicknesses and optical constants of thin layers and multi layers.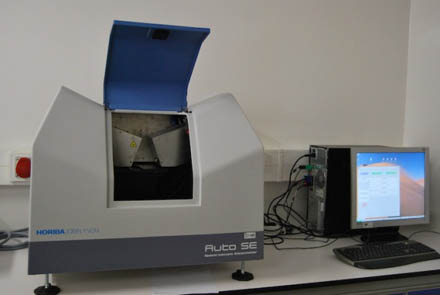 Integrating Spheres (2). C9920-02 (Hamamatsu) and ISP 150L-131 (Instrument Systems). UV-Vis (240-1900 nm) absolute emission quantum yield, radiant power and luminous flux. Samples: Films, crystals, powders and liquids.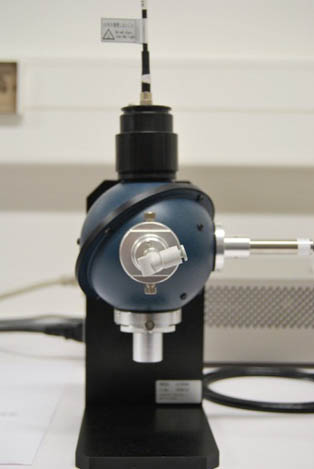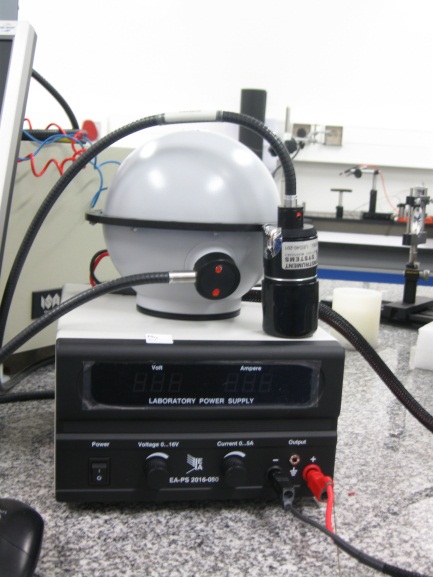 CCD Calibrated Camera. TOP 100/DTS140-111 (Instrument systems). Radiometric and photometric measurements. Films, crystals and powders.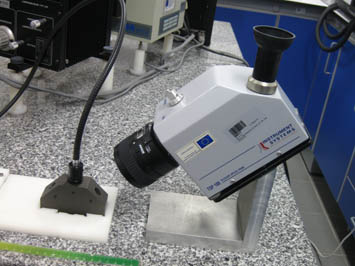 NIR Solid State lasers. Operating at 980 nm, 1.0 W, (Thorlabs) and 808 nm, 3.0 W (Crystalasers),.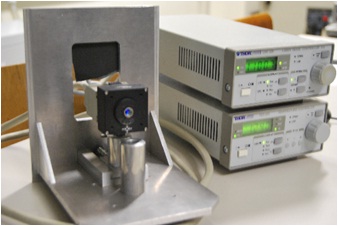 Pulsed UV Light Emitting Diodes. Operating at 330 nm, NAnoLED-330, and at 390 nm, NAnoLED-390 with 1.2 ns pulse duration, 1 MHz repetition rate, and 150 ns synchronization delay. (Horiba Scientific).
Peltier temperature programmer. PCB 1500 Water Peltier System (Perkin Elmer). Temperature control between 273 and 373 K.
University of Bern:
Cary 6000 with closed cycle He refrigerator, Fluorolog, Ar+ laser, Kr+ laser, Ti-sapphire laser, various spectrometers, Optical Cryostat
Ruhr-University Bochum:
Cary 5000: UV-Vis and NIR Spectrometer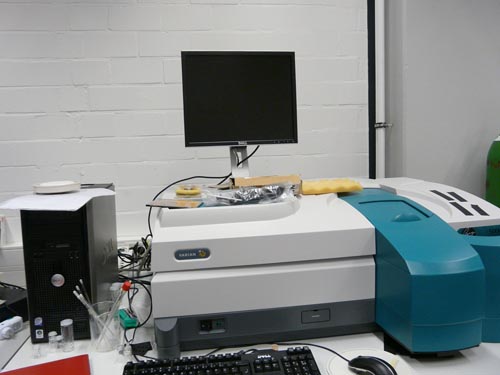 The device is able to perform measurements beyond 8.0 absorbance units with reference beam attenuation. Measuremets are possible from 175 to 3300 nm using a PbSmart NIR detector for extended photometric range. Accessoirs for diffuse reflectance. Large sample compartment with LockDown mechanism. Maximum light throughput using Schwarzchild coupling optics. Minimal noise and stray light using a floating aluminum casting and double Littrow monochromator.
Cary 50: UV-Vis and NIR Spectrometer
Horiby Jobin Yvon Fluorolog FL 3-22 spectrometer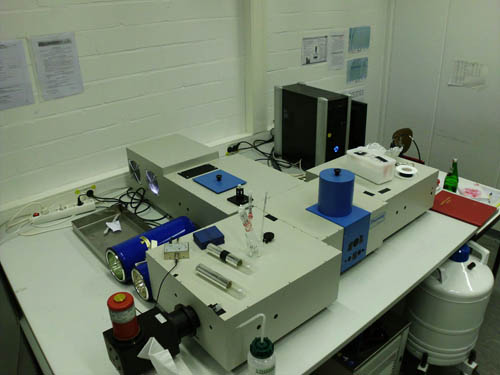 On our Fluorolog FL 3-22 spectrometer (Horiba Jobin Yvon, Unterhachingen, D) fluorescence and phosphorescence measurements can be carried out. A choice between a continuous xenon lamp with 450 W for steady-state luminescence and a pulsed xenon lamp for lifetime and time-resolved measurements is possible. Double gratings for the excitation and emission spectrometer are applied as monochromators. The signal is detected by a photomultiplier. For low temperature measurements (77 K), a Dewar equipped with optical glass windows can be filled with liquid nitrogen. In addition, an Optistat DN-V cryostat is available for precise temperature control.
Opolette laser system
With our Opolette-system we are able to excite in the range of 210-2200 nm (optical parametric oscillator). We have three detectors available: Photomultipliers for the visible and near-infrared region, and a stroboscopic fluorescence lifetime spectrometer. In addition, magnetic stirring and injection of additional substances during the measurement is possible for liquid samples.
Besides, two Optel Laser diodes (980 nm/ 100 mA and 808 nm/ 255 mA) are available. A portable Ocean Optics (QE 65000) CCD camera can be used as an additional detector.
University of Prague:

Shimadzu 3101 PC double beam absorption spectrometer, spectral range 190 – 3500 nm. Adapted for LN bath nitrogen cryostat (Optistat, Oxford Instruments) which allows measurements in 80 – 500 K temperature range.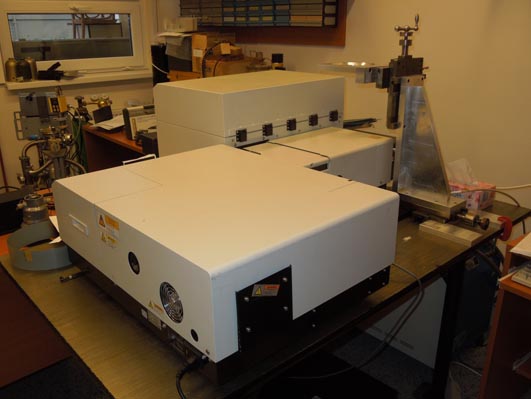 Click here or the photo for additional pictures
Luminescence 5000M and "cube" set-up's, Horiba Jobin Yvon. Spectral range 190 – 800 nm. Excitation D2-lamp, ns and µs flashlamps, nanoLED ns LED sources, X-ray tube, radioisotopes. Temperature range 8 – 500 K
(LN and closed cycle cryostats).
Advanced set-up for the light yield measurement of scintillation materials:
HPMT photodetector
Alpha, beta and gamma radioisotopes in 10 – 5000 keV energy range
Fast memory oscilloscope for decay measurement
Measurement of the light yield, energy resolution and nonproportionality.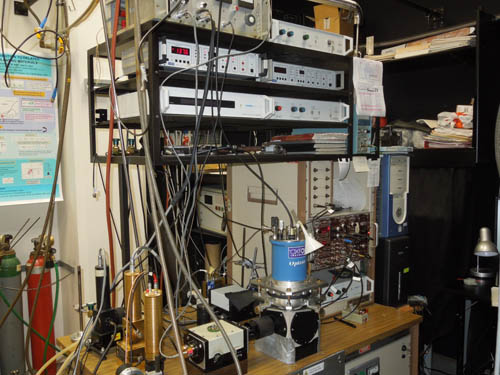 Click here or the photo for additional pictures
University of Verona:
Ar laser, Nd-YAG laser, Dye laser, Ti-saphire laser, 980 nm diode laser, CCD and water cooled GaAs photomultiplier for the detection of emitted light, 500 MHz digital oscilloscope for the measurement of emission decay curves, ow temperature cryostat (10 K)
IR/Raman spectroscopy
University of Aveiro:
FT-Raman Spectrometer. RFS 100 (Bruker)
FT-IR Spectrometer. 7000 (Mattson)
ATR Golden Gate Accessory for FT-IR Spectrometer. 7000 (Speckac)
Ruhr University Bochum: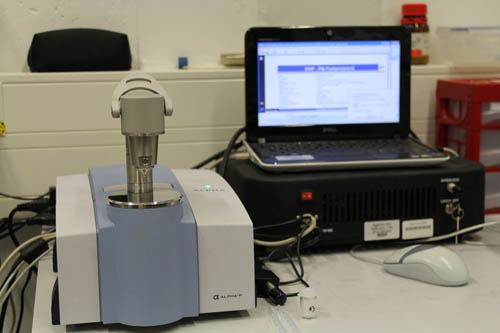 Agiltron Peakseeker Raman and Bruker alpha IR-spectrometers
NMR
University of Aveiro:
Solid-State NMR Spectrometers (2). Avance 400, 9.4 T and Varian-VNMR600 (Bruker).
Solid/Liquid State NMR Spectrometer. Avance 500, with an ultrashielded static magnetic field (Bruker).
NMR relaxometer. mq20 (Bruker).
Synthesis
University of Bern:
Glove boxes, vacuum lines, various furnaces, HF apparatus, Bridgman furnaces
Ruhr University Bochum:
Microwave synthesis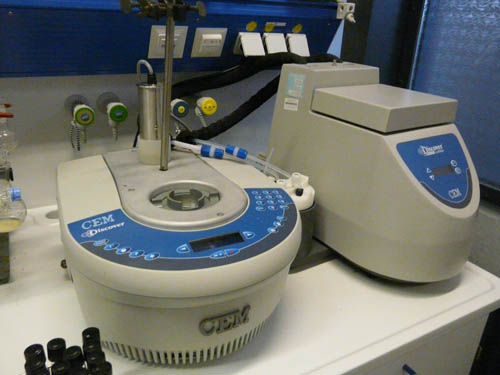 Torrovap TVP-800 PVD devices
Serial No. 009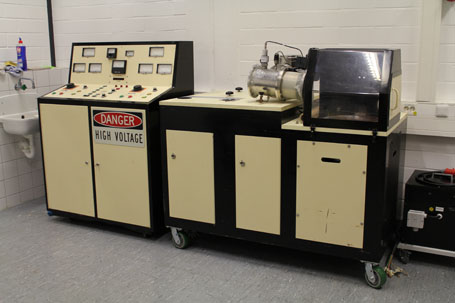 Serial No. 001 - The first of its kind
Glove boxes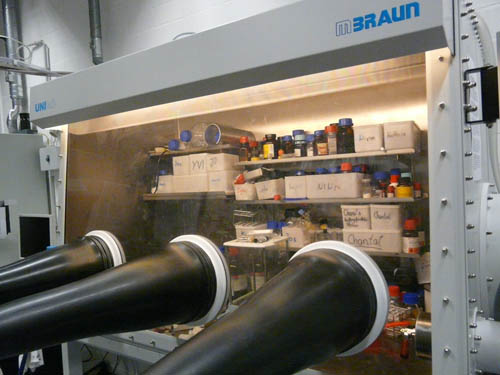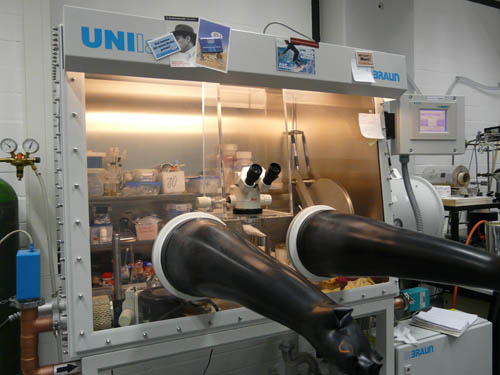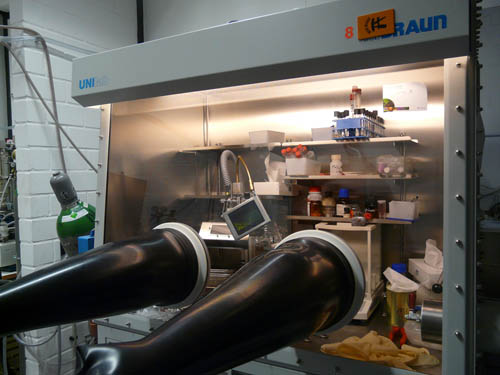 Vacuum lines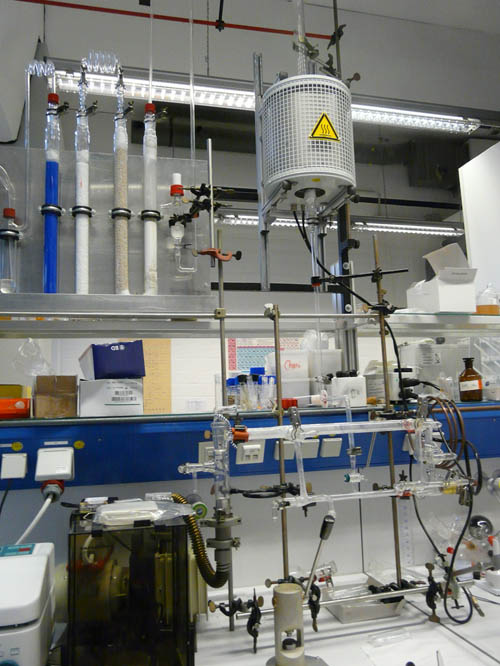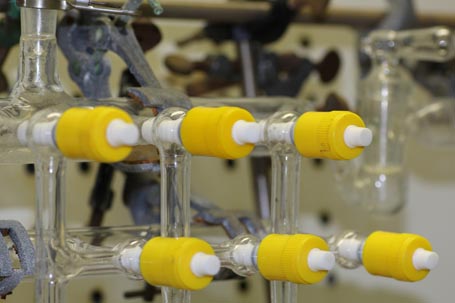 Synthesis of high purity rare earth halides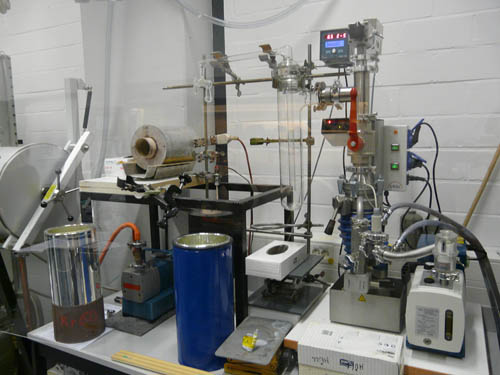 Diffusion pump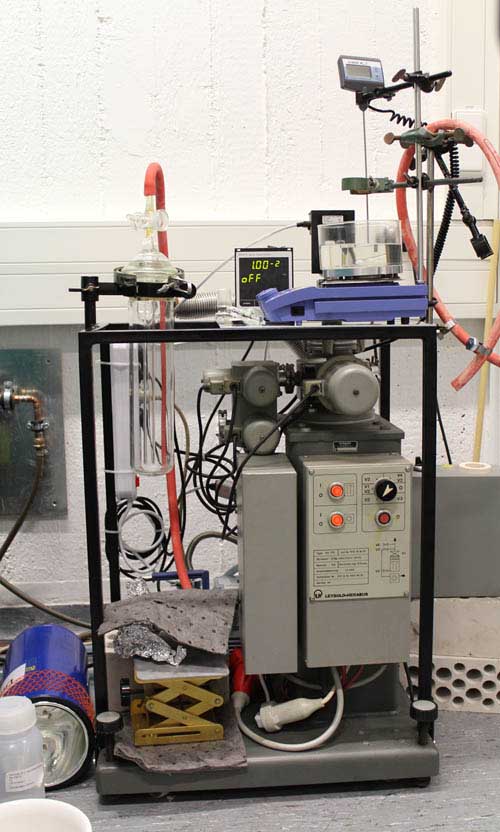 University of Prague:
Czochralski growth apparatus manufactured by LPA France. RF heating, crucible weighing, closed chamber enabling the growth in various atmospheres even under pressure.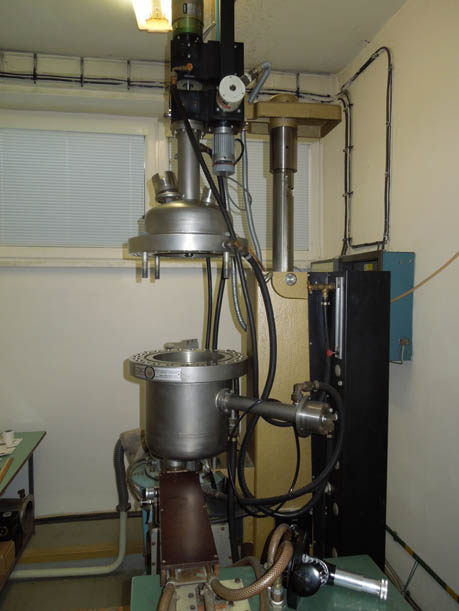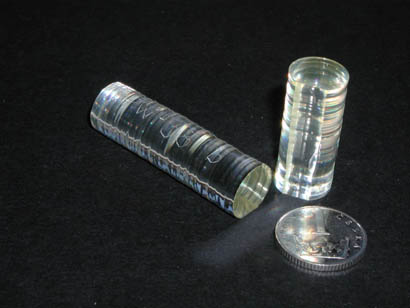 High-temperature furnace model HT 1800-Plus Vac, manufactured by Linn High Term GmbH,  equipped with molybdenum heating elements for annealing in neutral or reducing atmospheres up to approx. 1 600 0C.
Tube or box furnaces for annealing in air up to approx. 1600 0C are also available.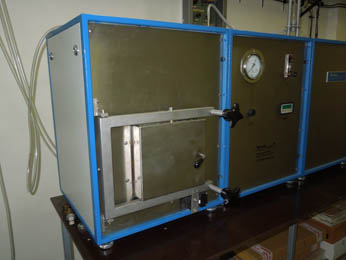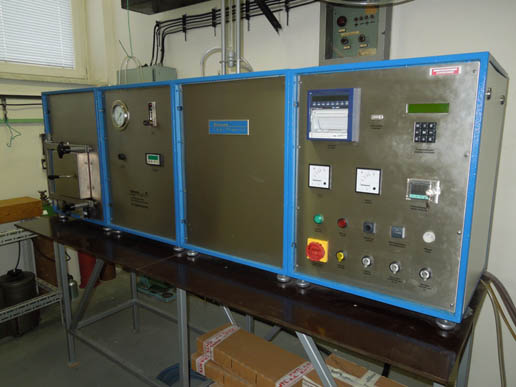 University of Verona:
4 T-controlled furnaces for heat treatment of samples and crystal growth. Maximum temperature 1500 °C.
Thermoanalysis
University of Bern:
Mettler DSC 823e and TGA/SDTA 851e
Ruhr-University Bochum:
Netzsch DSC-TG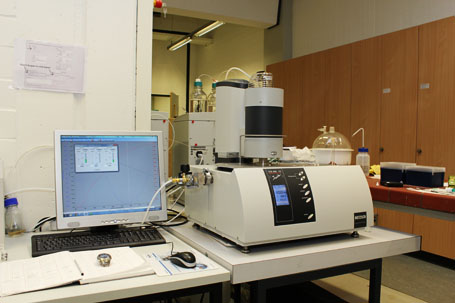 Netzsch DSC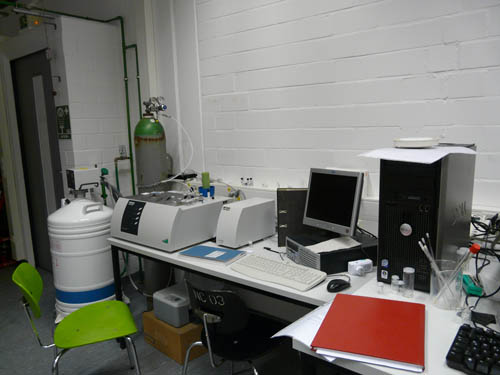 X-ray diffraction
University of Aveiro:
Single-Crystal X-ray Diffractometer. Kappa Apex II (Bruker).
Powder X-ray Diffractometer. Xpert MPD (PANalytical).
University of Bern:
STOE powder diffractometer
Ruhr-University Bochum:
Single crystal diffraction: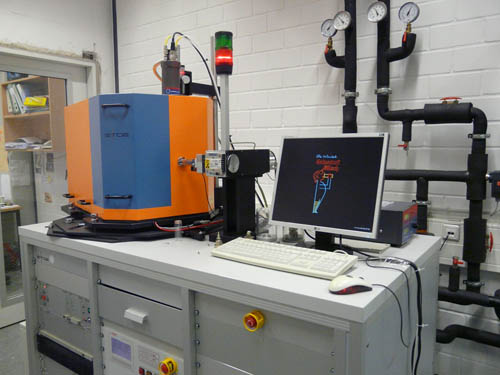 Powder - XRD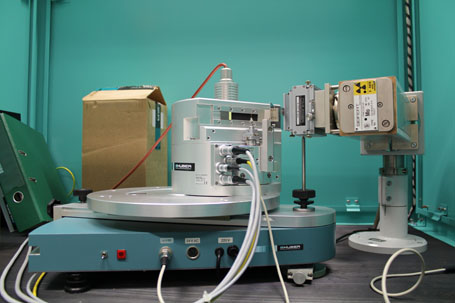 University of Verona:
ARL X'TRA powder X-ray diffractometer
Other equipment
University of Aveiro:
Atomic Force Microscopes (2). AFM Multimode and INTEGRA-NTMDT (VEECO).
Biomolecular Interaction Analyser. BIAffinity-Bioline  (AnalitykJena).
Light Scattering Analyser. Zetasizer Nano ZS (Malver Instruments).
ELISA Multiplate Reader. Multiskan EX (Labsystems).
Flow Cytometer Analysera (2).  FACScalibur-4 scores (Becton-Dickinson) and CyFlow space-7 cores (Partec).
Gas Adsorption Automatic Apparatus. ASAP2010  (Micromeritics).
Magnetic Resonance Imaging (ANIFC). 3.0 Tesla Tim Trio (Siemens).
CO2 Cell Incubator. 5215 (SHEL LAB).
Zeta Potential Analyser.  ZETA pals (Brookhaven Instruments).
Ruhr-University Bochum:
Metrohm Karl-Fischer Coulometry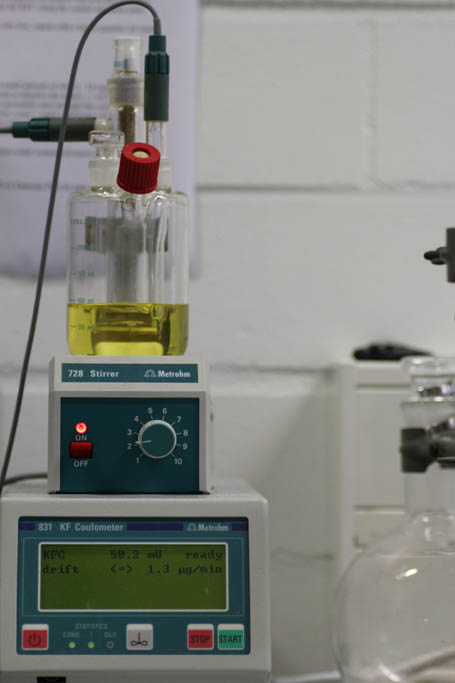 KF Coulometer with diaphragmless titration cell for water determination right down to trace levels. Can be used to determine water content of liquids, e.g. ionic liquids, and solids from a solution. Display provides information about the relevant titration parameters and gives a presentation of the course of titration in the form of a curve showing µg water against time. At the end of the titration, the value of water content is displayed in ppm. Recommended measuring range: 10 µg...200 mg absolute water.
Polarizing optical microscopy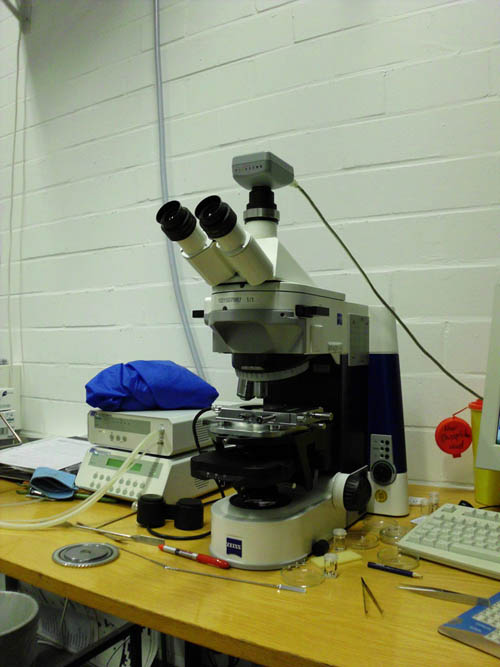 Ion chromatography: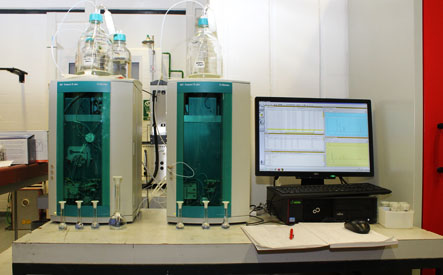 Our Ion exchange chromatography setup consists of two Metrohm 882 IC Compact Systems, one for cations and one for anions using Metrohm IC Professional MF conductivity detectors. The anion system is equipped with a chemical suppressor (Metrohm MSM, regenerated periodically with 100 mmol/L sulfuric acid) and a carbon dioxide suppressor (Metrohm MCS) for further signal improvement. Also a gradient system (Metrohm Dosino) is available for advanced measurements.
Electroanalysis: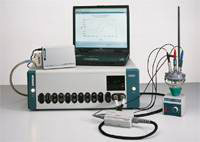 Picture (c) Metrohm GmbH
University of Prague:
X-ray irradiation set-up for the radiation damage study (induced absorption measurement)
X-ray source Seifert, 5 – 60 kW, 3.5 kW in a lead-shielded box.