Bochumer Philosophisches Jahrbuch für Antike und Mittelalter
Editors: Manuel Baumbach, Olaf Pluta
Associate Editor: Thomas Welt
Assistant Editor: Johanna Oberhaus
Publisher: John Benjamins, Amsterdam, The Netherlands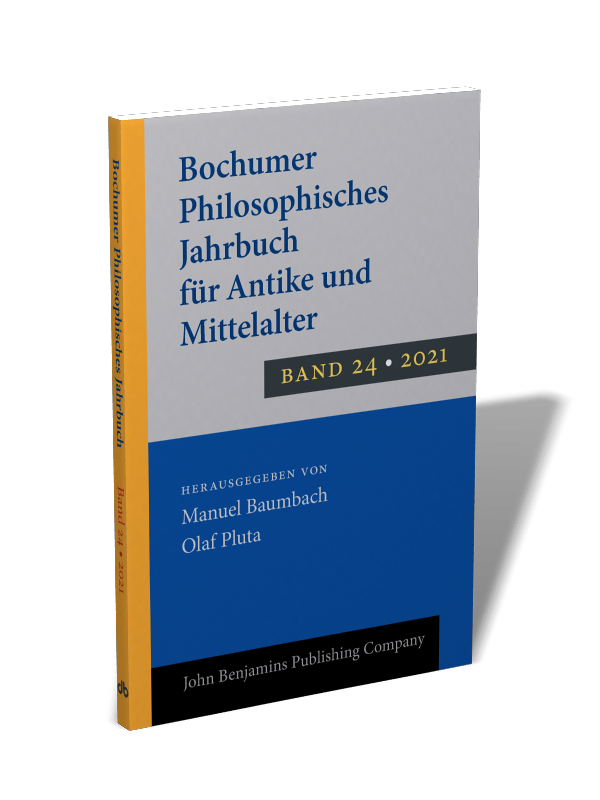 The journal publishes original research articles on ancient and medieval philosophy.
It also publishes minor critical editions of ancient and medieval sources,
interviews with leading scholars in the field,
as well as review articles on books and conferences.
News
Volume 24 (2021) has now been published (@johnbenjamins) (July 6, 2022).
The final manuscript has been sent to the publisher (December 17, 2021).
The manuscript of Volume 24 (2021) has been finalized (December 15, 2021).
Further information is available at: benjamins.com/catalog/bpjam.
Call for Papers
We are now accepting submissions for Volume 25 (2022), due out in early 2023.
We welcome submissions fitting within the following sections:
• Beiträge: original research articles
• Materialien: minor critical editions
• Rezensionen: review articles
For book reviews, please refer to the list of available books.
Before submitting your manuscript, please read our guidelines.

Contact
Manuscript submissions and enquiries: bpjam-redaktion@rub.de.
Postal address:
Bochumer Philosophisches Jahrbuch für Antike und Mittelalter
Seminar für Klassische Philologie
Ruhr-Universität Bochum
D–44780 Bochum (Germany)
All rights reserved. Last updated: January 6, 2023 (webmaster@bpjam.net).