IEC-8 - Xining/China - 2009
Photo gallery (new tab)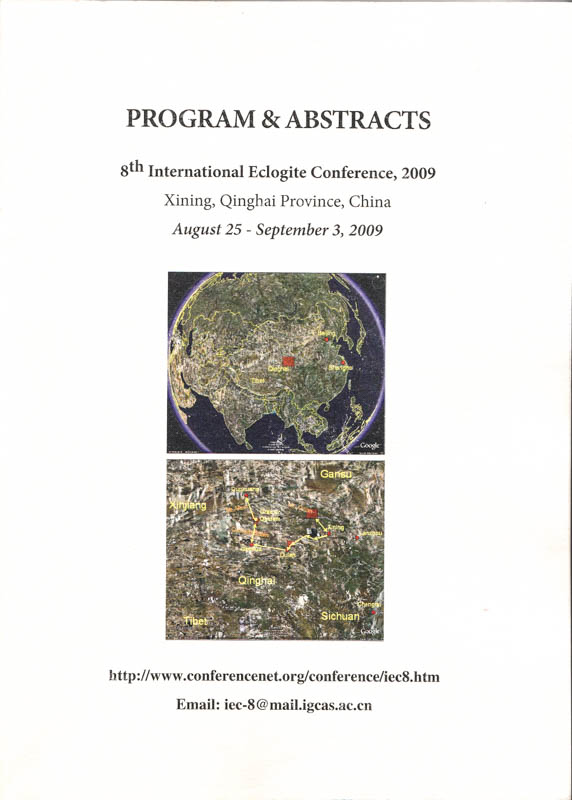 In 2009 China was host of the IEC. The conference which was organized by Kai Ye took place from August 25th to September 3rd in Xining, Qinghai Province; 114 participants attended.

Two field trips were organized: The Pre-Conference trip guided by Shuguang Song (August 25th – 27th) focused on "Tectonics and high-pressure metamorphism of the Early Paleozoic oceanic suture zone in the North Qilian Mountains, NW China" (Assistants: G. Zhang, X. Xia, Y. Cao, C. Zhang).

The Post conference field trip (August 31st - September 3rd) focused on "Ultrahigh-pressure metamorphism and tectonic evolution from oceanic subduction to contionental collision in the North Qaidam, northwestern China". Leaders were Liang Liu, Danling Chen, Guibin Zhang, Jianxin Zhang, Shuguang Song and Jianjun Yang.

A Special issue of "Journal of Asian Earth Sciences" (JAES) covers all the session titles in the conference: (1) mineralogy and petrology of HP-UHP rocks: experimental and natural studies, (2) geochronology and geochemistry of subduction-zone metamorphism, (3) orogenic peridotites: protolith nature, metamorphism and metasomatism, mantle geodynamics.

The Special Issue (JEAS, Vol. 42, No. 4, 2011 ) was handled by guest editors Jingsui Yang, Zemin Zhang and Paul Robinson.
J. Yang, P.T. Robinson, Z. Zhang, Introduction to the special issue "Subduction and Exhumation History Recorded in HP-UHP Metamorphic Rocks", Journal of Asian Earth Sciences, Volume 42, Issue 4, 10 September 2011, Pages 551-552

X. Xu, J. Yang, D. Ba, G. Guo, P.T. Robinson, Jinyang Li, Petrogenesis of the Kangjinla peridotite in the Luobusa ophiolite, Southern Tibet, Pages 553-568

M. Krebs, H.-P. Schertl, W.V. Maresch, G. Draper, Mass flow in serpentinite-hosted subduction channels: P–T–t path patterns of metamorphic blocks in the Rio San Juan mélange (Dominican Republic), Pages 569-595

F. Meng, A.B. Makeyev, J. Yang, Zircon U–Pb dating of jadeitite from the Syum-Keu ultramafic complex, Polar Urals, Russia: Constraints for subduction initiation, Pages 596-606

Y.-C. Liu, X.-F. Gu, F. Rolfo, Z.-Y. Chen, Ultrahigh-pressure metamorphism and multistage exhumation of eclogite of the Luotian dome, North Dabie Complex Zone (central China): Evidence from mineral inclusions and decompression textures, Pages 607-617

W. Wang, Z. Zhang, F. Yu, F. Liu, X. Dong, J.G. Liou, Petrological and geochronologicalconstraints on the origin of HP and UHP kyanite-quartzites from the Sulu orogen, Eastern China, Pages 618-632

L. Tong, B. Jahn, Y.-F. Zheng, Diverse P–T paths of the northern Dabie complex in central China and its reworking in the early Cretaceous, Journal of Asian Earth Sciences, Pages 633-640

S. Yu, J. Zhang, P. García Del Real, Petrology and P–T path of high-pressure granulite from the Dulan area, North Qaidam Mountains, northwestern China, Pages 641-660

X.-P. Li, J.-S. Yang, P. Robinson, Z.-Q. Xu, T.-F. Li, Petrology and geochemistry of UHP-metamorphosed ultramafic–mafic rocks from the main hole of the Chinese Continental Scientific Drilling Project (CCSD-MH), China: Fluid/melt-rock interaction: Mafic–ultramafic complex from CCSD-MH, Pages 661-683

J. Du, L. Zhang, Z. Lü, X. Chu, Lawsonite-bearing chloritoid–glaucophane schist from SW Tianshan, China: Phase equilibria and P–T path, Pages 684-693

W. Su, M. Zhang, J. Chen, G.D. Bromiley, K. Ye, S.A.T. Redfern, J. Lin, Amorphization in natural omphacite and its implications, Pages 694-703

K. Zong, Y. Liu, C. Gao, Z. Hu, S. Gao, Garnet–spinel–corundum–quartz-bearing titanohematite veins in eclogite from the Sulu ultrahigh-pressure terrane: Imprint of a short-lived, high-temperature metamorphic stage, Pages 704-714

X. Liu, B. Chen, B. Jahn, G. Wu, Y. Liu, Early Paleozoic (ca. 465 Ma) eclogites from Beishan (NW China) and their bearing on the tectonic evolution of the southern Central Asian Orogenic Belt, Pages 715-731

X. Dong, Z. Zhang, F. Liu, W. Wang, F. Yu, K. Shen, Zircon U–Pb geochronology of the Nyainqentanglha Group from the Lhasa terrane: New constraints on the Triassic orogeny of the south Tibet, Pages 732-739

F. Yu, Z. Zhang, W. Wang, F. Liu, X. Dong, J.G. Liou, Zircon U–Pb constraints on the origin of UHP meta-supracrustal rocks in the Southern Sulu orogen, eastern China, Pages 740-751

C. Zhang, L. Zhang, H. Van Roermund, S. Song, G. Zhang, Petrology and SHRIMP U–Pb dating of Xitieshan eclogite, North Qaidam UHP metamorphic belt, NW China, Pages 752-767