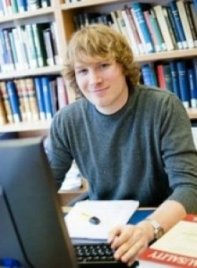 Jan Baedke
Ruhr-Universität Bochum
Mercator Research Group
"Spaces of Anthropological Knowledge"
Universitätsstr. 150
44801 Bochum
Germany
Room: GA 3/150
Phone: +49(0)234/32-24727
E-Mail:
Jan Baedke
Jan Baedke
Jan Baedke is a postdoctoral fellow of the Mercator Research Group and the Department of Philosophy I, Ruhr University Bochum. His research interests include the history and philosophy of the life sciences (especially biology), and philosophical anthropology. He received his PhD in 2014 (thesis entitled 'Causal Explanation in Epigenetics: Modeling Complex Biological Systems', Best Dissertation Award, 'GdF Award', RUB). Currently he works on the German Research Foundation (DFG) funded project 'Extended Synthesis and Scientific Explanation: Challenges of Theoretical Expansion in Modern Biology.'
DFG GEPRIS
It investigates the conceptual and methodological challenges going along with the current introduction of novel explanatory approaches in evolutionary theory by more developmentally orientated accounts, such as evo-devo, epigenetics, and niche construction theory. Other research interests concern anthropological issues in the biosciences and the role of the visual in the sciences. Besides that he is working on current trends towards commodification in sciences as a member of the Global Young Faculty (Foundation Mercator).
Global Young Faculty
Publications
Books and Editions
Journal Articles
Book Chapters
The New Biology of the Social: Shaping Humans' Future, Science, and Public Health. In: G. Verschraegen, F. Vandermoere, L. Brackmans & B. Segaert (eds.): Shaping the Future: Collective Imaginaries within Science and Society. Routledge: London. [forthcoming]
"Neue Plastizität und postgenomische Lebensverbesserung. [New plasticity and post-genomic life enhancement]. In: K. Liggieri & F. Hüttemann (eds.): Die Grenze 'Mensch'. Zur Frage transhumanistischer Diskurse [The Border 'Human': On Transhumanist Discourse]. transcript: Bielefeld. [forthcoming]"
Grenzen des Menschseins: Intensivmedizinische Herausforderungen und anthropologische Ungewissheiten. [Borders of being human: Challenges in intensive care and anthropological uncertainties]. In: J. Baedke, C. Brandt & H.-U. Lessing (eds.): Anthropologie 2.0?. LIT: Münster, 89-102. [Co-author: Jessica Pahl; 2015]
Challenges to characterizing the notion of causation across disciplinary boundaries: Comment on Faye. In: M.C. Galavotti, S. Hartmann, M. Weber, W. Gonzalez, D. Dieks & T. Uebel (eds.): New Directions in the Philosophy of Science (Series 'The Philosophy of Science in a European Perspective'). Springer: Dordrecht, 191-202. [2014] (download PDF)
Die andere Epigenetik: Modellbildungen in der Stammzellbiologie und die Diversität epigenetischer Ansätze [The other epigenetics: Modeling in stem cell biology and the diversity of epigenetic approaches]. In: V. Lux & J.T. Richter (eds.): Kulturen der Epigenetik: Vererbt, codiert, übertragen [Cultures in Epigenetics: Inherited, Coded, Transmitted]. DeGruyter: Berlin: 23-41. [Co-author: Christina Brandt; 2014] (download PDF)
Reviews & Others
Complete bibliography of Hermann v. Helmholtz. In: Pulte, H., Heidelberger, M. & G. Schiemann (eds.): Edition of 'Collected Works of Hermann v. Helmholtz'. [forthcoming]
Development, evolution, and the concepts between the two (Review of 'Conceptual Change in Biology'. Ed. A. Love, 2015). In: Acta Biotheoretic 64: 99-103. [2016].
Review of 'Understanding Evolution'. K. Kampourakis (2014). In: Frontiers in Evolutionary Developmental Biology 4:11. Doi: 10.3389/fevo.2016.00011. [2016].
Review of 'Historisches Wörterbuch der Biologie'. [Historical Dictionary of Biology]. G. Toepfer (2011). In: Journal for General Philosophy of Science 46: 409-411. [2015]."
Review of 'The Reception of Charles Darwin in Europe'. Eds. Eve-Marie Engels and Thomas F. Glick (2008). In: Journal for General Philosophy of Science 43: 411-413. [2011]
More information please view the website of the Department of Philosophy
back to top