Invitation to submit articles
to the International Journal of Molecular Sciences
for the upcoming Special Issue "Ras Subfamily and Regulators in Human Disease and Repair"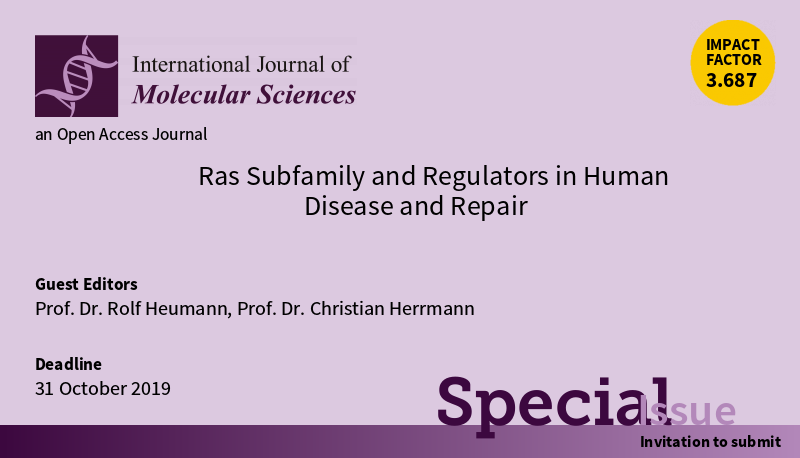 Dear Colleagues,
We believe that the impact of Ras and Ras-like proteins on brain cell functions such as neuronal survival, neuronal cell volume, synaptic transmission, synaptic connectivity, neuronal guidance, and myelination is rather underestimated. Ras and Ras-like proteins appear to be involved in neurodegenerative diseases i.e., Alzheimer's, Parkinson's and autism spectrum disorders. The therapeutic potential of Ras and Ras- like proteins as pharmacological targets or as agents counter-regulating the disease state by enhancement of tissue regeneration using novel strategies in magnetogenetics or optogenetics are just emerging. Manuscripts may cover either original data in a specialized field, short reviews or a comprehensive review e.g., bridging molecular and clinical perspectives. Contributions to any aspect discussed here are encouraged, as well as related topics not explicitly mentioned.
Ras-like proteins
RASopathy
neurodegenerative diseases
GTPase activating proteins
guanine nucleotide exchange factors
synaptic transmission
neuronal regeneration
magneto protein therapy
optogenetics
…
Prof. Dr. Rolf Heumann
Prof. Dr. Christian Herrmann
Guest Editors
Submission deadline: 31 October 2019
Website: https://www.mdpi.com/journal/ijms/special_issues/Ras-like
IJMS Editorial Office: ijms@mdpi.com, nicole.peng@mdpi.com
Senior Prof. Dr. Rolf Heumann
Pressemitteilungen 2015:
Magnetische Kontrolle des Wachstums von Nervenfasern. Neues Projekt wird von der Europäischen Union gefördert.
Neue Einblicke in die innere Uhr
Main points of research

Neuronal connectivity is regulated not only during development but also in the adult brain, in response to brain activity. The small GTPase protein Ras is a universal intracellular signaling protein that may mediate such mechanisms of brain plasticity through transient activation of downstream protein phosphorylation signaling cascades. We have developed a synRas animal model expressing permanently activated Val12 Ras, selectively in neurons. Using this model we investigate if neuronal Ras activity is involved in the dynamics of dendritic spine formation in brain neurons, in the regulation of synapse number and their efficiency, in the regulation of neurogenesis in the hippocampus. The latter is thought to mediate working memory processes. We also investigate what is the molecular mechanism of Ras-mediated protection against lesion-induced neuronal degeneration. Formation of intracellular protein-protein interactions involving protein tyrosine phosphatases are studied in vivo and in vitro. The molecular mechanisms are analyzed by protein nuclear magnetic resonance structure determinations and mass spectrometric methods.
Der Lehrstuhl Biochemie II schließt, soweit gesetzlich zulässig, jegliche Haftung für die Inhalte der von ihm publizierten Webseiten aus. Das gleiche gilt für Seiten, auf die durch Links verwiesen wird. Der Lehrstuhl Biochemie II distanziert sich ausdrücklich von den Inhalten der verlinkten Seiten und macht sich diese nicht zu Eigen.