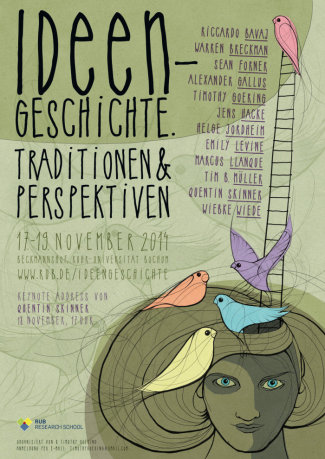 Historians currently working in the field of intellectual history can take pleasure in the increasing acceptance of this discipline amongst other historians. There have been increasing indications of its renewal and reevaluation, especially in Germany, since the last decade so that one might say that intellectual history is currently enjoying a high reputation, greater than it has known for decades. But with the rising popularity also comes the need to take stock of the methodological tools that are in use as well as the position intellectual history has within the general historical discipline. The international conference "Intellectual History. Traditions and Perspectives" seeks to intervene in this current debate. It will explore what traditions are still alive today and which perspectives should be opened to intellectual history. The following aspects will be addressed at the conference:

(a) Traditions: What methodologies and theories that have underpinned research in intellectual history in the past remain alive and vital today? Which ones should be sanctioned? What traditional methodologies within intellectual history must be course corrected or reevaluated? Where do schools such as conceptual history, Cambridge School, or discourse analysis stand in the field of intellectual history today?

(b) Perspectives: Can intellectual history learn anything from the "spatial turn" or the "practical turn"? What new fields of research should be sought and extended? Should global history, science studies, actor-network theory or entangled history give intellectual historians cause to rethink approaches to intellectual history? What new methodologies and theories should be integrated into the current practice of intellectual history?
Due to a limited amount of seats, registration is required. Please write an email to D. Timothy Goering (timothygoering@gmail.com).
The conference "Ideengeschichte. Traditionen und Perspektiven" is supported by the Ruhr University Research School PLUS, funded by Germany's Excellence Initiative [DFG GSC 98/3].