Strings and Automorphic Forms in Topology
August 13-17 2012, Bochum, Germany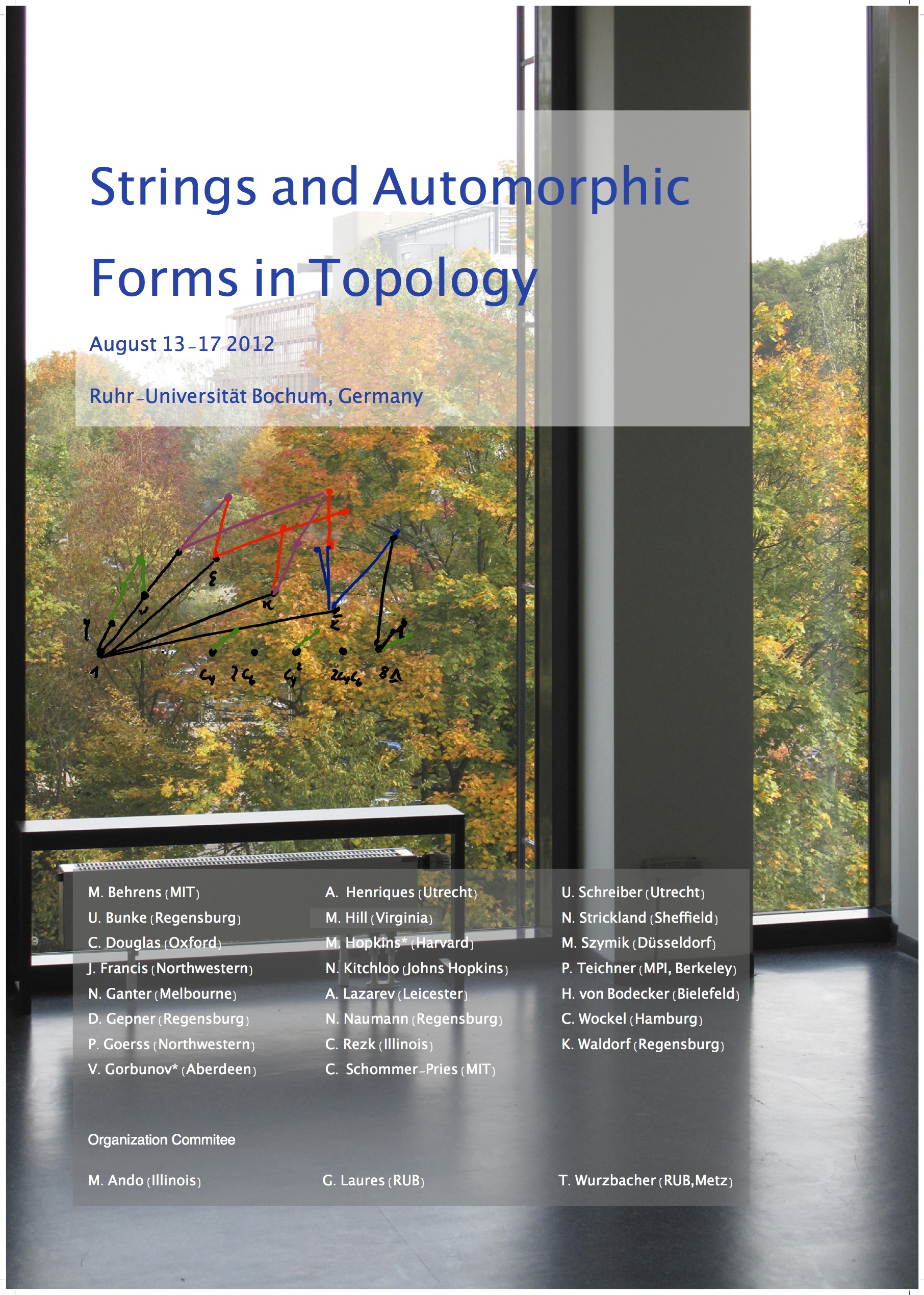 The conference focuses on the topological aspects of the series of String-Math meetings. It aims to engage the growing number of mathematicians working on the new interactions of topology with string geometry in mathematical physics and algebraic geometry. Its main topics include topological automorphic forms, conformal field theories, the string group and topological algebraic geometry.

Supported by
Scientific Program
The following speakers are invited to contribute with lectures:


| | | |
| --- | --- | --- |
| Ulrich Bunke (Regensburg) | Nitu Kitchloo (Johns Hopkins) | Vesna Stojanoska (MIT) |
| John Francis (Northwestern) | Anssi Lahtinen (Kopenhagen) | Markus Szymik (Düsseldorf) |
| Nora Ganter (Melbourne) | Andrey Lazarev (Leicester) | Peter Teichner (MPI, Berkeley) |
| David Gepner (Regensburg) | Niko Naumann (Regensburg) | Hanno von Bodecker (Bielefeld) |
| Vassily Gorbunov (Aberdeen) | Aturo Prat-Waldron (HCM) | Friedrich Wagemann (Nantes) |
| Hans-Werner Henn (Straßburg) | Christopher Schommer-Pries (MIT) | Konrad Waldorf (Regensburg) |
| Andre Henriques (Utrecht) | Urs Schreiber (Utrecht) | |
| Gerald Hoehn (KSU) | Nathaniel Stapleton (MIT) | |
Schedule and Information for Speakers
The talks start Monday morning August 13th and end Friday afternoon August 17th. A more detailed schedule follows below. The talks take place in the building ID, lecture hall "Hörsaal" HID, of the Ruhr University. There is a large blackboard, overhead projectors, a beamer and a microphone.





Monday


Tuesday

Wednesday

Thursday

Friday

09:00 - 10:00

Registration

Stojanoska

Kitchloo

Teichner


Bunke

10:00 - 11:00

Francis

Lazarev

Schommer-Pries

Gepner

Henriques

11:00 - 11:30

Tea/Coffee

Tea/Coffee

Tea/Coffee

Tea/Coffee

Tea/Coffee

11:30 - 12:30

Naumann

Henn

Gorbunov

Bodecker

Prat-Waldron

12:30 - 14:00

Lunch

Lunch

Lunch

Lunch

Lunch

14:00 - 15:00

Szymik

Bell show

Excursion to

Henrichs Hütte

Bell show

Bell show

15:00 - 16:00

Hoehn


Stapleton


Wagemann

Schreiber

16:00 - 16:30

Tea/Coffee

Tea/Coffee

Conference Dinner


in Henrichs Hütte

Tea/Coffee

Tea/Coffee

16:30 - 17:30

Lahtinen

Ganter

Waldorf

Evening

Reception in

Beckmanns Hof


Soccer

Soccer
Detailed schedule for downloading. There are livetexed notes on the homepage of A. Mazel-Gee.
Registration
All participants are required to register. There is no fee.


Travel Information
By public transport
Bochum Central Station is served by ICE, IC, EC, regional, and suburban trains of the Deutsche Bahn AG (DB) at a high frequency. From there, you can reach us easily by taking the underground line U35 (CampusLinie) straight to the Ruhr-Universität Bochum (RUB), which has its own station named after it. The U35 (direction Bochum Hustadt) runs at five-minute intervals on weekdays and takes just ten minutes to get to the university. On campus you go to the lecture hall of the building ID (the new building in the I-row in the east, here is a map )

By car
Motorists can also easily reach the RUB via the dense network of motorways in Germany and especially in North Rhine-Westphalia. The quickest route is via the motorway junction Bochum/Witten, where the A43 and A44 meet. Simply take the exit Bochum-Querenburg, follow the signs "Ruhr-Universität" and then the (electronic) information boards.
By plane
Four airports – Dortmund, Münster/Osnabrück, Cologne/Bonn, and Düsseldorf – are within a reasonable distance of the RUB. Düsseldorf Airport, however, is not only the largest, but also the most easily accessed: there are direct connections between the airport and Bochum's main train station up to eight times per hour, and the journey only takes around half an hour. Some visitors might fly to Frankfurt/Main Airport (FRA) even though Dusseldorf is much closer and more convenient. After arriving go to the railway station and you take a train of the Deutsche Bahn AG (DB) to Bochum Central Rail Station (Hauptbahnhof). From here you can conviniently reach the Ruhr-University by subway U35 or your hotel.

Accomodation
We have reserved some hotel rooms for participants of the conference for special prices. Please book rooms yourself and tell the receptionist that you participate in the conference on topology. Here is a list of hotels:
Park Inn - conveniently located next to central station, large rooms, but not cheap (ca 85 Euro incl. breakfast)).
Oekey - good and good price - between university and station on the U35 line (ca 57 incl. breakfast)
Ibis City und Ibis Zentrum - next to central station, small rooms, good price but nothing special - Ibis Zentrum is probably a bit more quiet (ca 65 incl. breakfast).
Art Hotel Tucholsky in the "Bermuda triangle" (party mile), that is, can be noisy at night, but if you reserve a room to the back yard it's very fine, art hotel with funny accessoires - great breakfast, probably the most interesting hotel in the list (ca. 75 Euros incl. breakfast)
Jugendherberge (youth hostel) Bochum again in the "Bermuda triangle", it is supposed to be very good and has differnet kinds of rooms (ca. 62 Euros for single rooms incl. breakfast)
For assistance please contact Siegline Fernholz.
Participants
Organizers
Matthew Ando (UIUC), Gerd Laures(Bochum), Tilmann Wurzbacher (Bochum, Metz)