KONSTANZE F. WINKLHOFER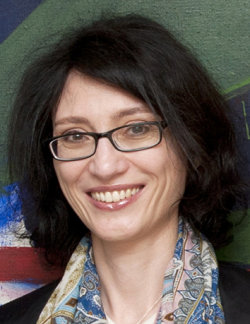 Prof. Dr. Konstanze F. Winklhofer
Chair, Dept. of Molecular Cell Biology
Institute of Biochemistry and Pathobiochemistry
Ruhr-University Bochum
Building MA 2/143
Universitätsstraße 150
44801 Bochum, Germany

Phone:
(+49) 234 32 28428
Secretary:
(+49) 234 32 22428
Fax:
(+49) 234 32 14193
konstanze.winklhofer@ruhr-uni-bochum.de
CELLULAR QUALITY CONTROL AND STRESS RESPONSE PATHWAYS IN NEURODEGENERATION
We are interested in neuroprotective and neurotoxic pathways that are associated with neurodegenerative diseases, such as Parkinson's, Alzheimer's and Huntington's disease. Specifically, we are focusing on the following topics:

Ubiquitin signaling and stress protection

Mechanisms to maintain mitochondrial integrity and function

Interorganellar communication and its role in the cellular stress response

Cellular quality control mechanisms to promote protein homeostasis
SELECTED PUBLICATIONS
link to PubMed
Meschede et al. (2020) The parkin-coregulated gene product PACRG promotes TNF signaling by stabilizing LUBAC. Sci Signal., 13(617).

van Well, Bader et al. (2019). A protein quality control pathway regulated by linear ubiquitination. EMBO J., 38(9): doi: 10.15252/embj.2018100730.
News & Views

Bruch et al. (2017). PERK activation mitigates tau pathology in vitro and in vivo. EMBO Mol Med, 9(3): 371-384

Woerner et al. (2016). Cytoplasmic protein aggregates interfere with nucleo-cytoplasmic transport of protein and RNA. Science, 351(6269):173-176.

Meka et al. (2015). Parkin cooperates with GDNF/RET signaling to prevent dopaminergic neuron degeneration. J Clin Invest., 125(5): 1873-1885.

Winklhofer (2014). Parkin and mitochondrial quality control: toward assembling the puzzle. Trends Cell Biol., 24(6): 332-341.

Müller-Rischart et al. (2013). The E3 ligase parkin maintains mitochondrial integrity by increasing linear ubiquitination of NEMO. Mol Cell, 49: 908-921.

Klein et al. (2014). Ret rescues mitochondrial morphology and muscle degeneration of Drosophila Pink1 mutants. EMBO J, 33(4): 341-55.

Rolland et al. (2013). Impaired complex IV activity in response to loss of LRPPRC function can be compensated by mitochondrial hyperfusion. Proc Natl Acad Sci U S A, 110(32): 2967-2976.