The Teaching Collection of Ancient Ceramics at the Institute of Archaeological Sciences of the RUB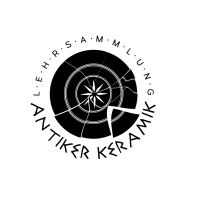 The collection of ancient ceramics at the Institute of Archaeological Sciences of the RUB is primarily a collection for teaching and studying. With more than 20,000 fragments, it covers a broad spectrum of ancient Greek pottery production from six millennia - from the Neolithic to Ottoman times. It is the largest collection of such at a German university. It was originally established through a donation by the former Bochum professor ordinarius of Classical Archaeology, Prof. Dr. Hans Lauter (*1940, † 2007). Since 2011, the collection has been located in the new premises of the Institute of Archaeological Sciences Am Bergbaumuseum 31, 44791 Bochum. Since 2013, the teaching collection of ancient ceramics has been a member of the network of the Bochum Scientific Collections (BOSCOL).
The extraordinary variety of shapes and techniques within the collection of ancient ceramics allows for a spatial and temporal localisation with varying degrees of accuracy. Fine painted ceramics from the Geometric, Archaic and Classical periods (10th-4th century BCE) are usually very accurately attributed to certain landscapes and times, due to their rich, often figurative decoration. For the simpler daily use ceramics, this is not true to the same extent. However, since such domestic ceramics make up the majority of all finds in every excavation, they form an indispensable group of key pieces for the temporal determination of individual layers of an excavation. Therefore, a thorough knowledge of the typical fine and domestic ceramics from 'their' excavation site is indispensable for every archaeologist.
The Bochum Collection serves mainly to educate students in drawing and examining of ancient ceramics. Not only do the aspiring archaeologists learn the correct way to handle excavation finds, but at the same time they practice their classification and dating with the help of specialist literature.
Contact:
Prof. Dr. Hans Lohmann
Institute for Archaeological Sciences
Ruhr-Universität Bochum
Am Bergbaumuseum 31
44791 Bochum
Tel. +49 (0)234/32 – 24786
E-Mail: hans.lohmann@rub.de
Opening hours:
This collection does not have regular opening hours.
Some examples from the Collection of Ancient Ceramics at the Institute of Archaeological Sciences of the RUB: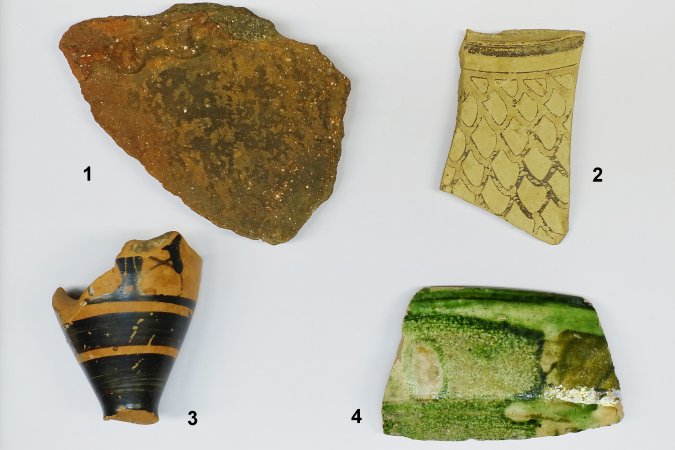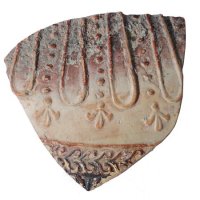 1. Wall fragment from a Neolithic vessel with Fingertupfenleiste adornment (4th millennium BCE); 2. Wall fragment from an Early Mycenaean vessel with scale patterning (16th century BCE); 3. Fragment of an Attic black-figure Lekythos (6th century BCE); 4. Glazed early Islamic pottery (15th century AD); 5. Fragment of a so-called 'Megarian Mug' (these hemispherical drinking vessels are a special kind of Hellenistic fine ceramic. They did not have a foot or standing ring, but were used to drink the entire contents in one motion and then placed upside down. Their production begins in the second half of the 3rd century BCE in Athens and spread rapidly. Their name is based on the outdated assumption that they were special pottery products from the city of Megara. The Megarian Mugs are not formed on the potter's wheel, but from moulds. This technique then represents a precursor to the Roman sigillates, which, however, have a uniform red glossy coating).