Management and Committees
Since 1 January 2007, RUB has had legal status as a corporation under public law. The university is managed by the Rectorate. Together with other steering committees, the Rectorate is responsible for the organisation and development of teaching and research at RUB.
University Council
RUB's University Council is made up of seven external members. It is approved by the Senate and oversees the work of the Rectorate. The University Council – as the representative of civil society – advises the Rectorate.
Rectorate
The Rectorate, consisting of the Rector, the Chancellor (Head of Administration), and three Vice-Rectors, leads the university. The current membership of the Rectorate is especially committed to the guiding principle of "universitas".
Senate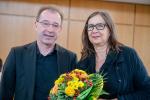 The Senate is elected by the university members and represents all status groups within the university. Among other things, the Senate is the constituent organ of the university.
Council of Deans
The Council of Deans advises the Rectorate and the University Council in fundamental matters of research, art, teaching, and study.
Equal Opportunities Commission
The Commission advises and supports the university and the Equal Opportunities Officer in all matters regarding the equality of women and men.
University Commissions
Standing committees help prepare Senate resolutions and advise the Rectorate, Senate, Fakultäten, and other institutions.