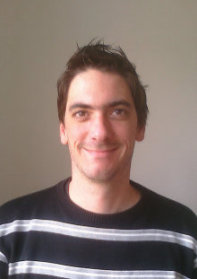 Julian Meyer
Ruhr-University Bochum
Mercator Research Group
"Spaces of Anthropological Knowledge"
Universitaetsstr. 150
44801 Bochum
Germany
Room: FNO 02/14
Phone: +49-(0)234- 32 27252
Fax: +49-(0)234- 32 14744
E-Mail:
Julian Meyer
Julian Meyer
Background
Julian Meyer, born 1980, studied cultural anthropology, political science and historical ethnology at the Johann Wolfgang Goethe University Frankfurt/ Main. In his master's thesis he described the ways of knowledge production in the usage of flight-simulators in the development process of military aircrafts and the training of pilots. His research interests are anthropology of knowledge, media anthropology, game studies and peace and conflict studies. In his PhD research project he is exploring how children and adolescents produce knowledge while playing violent computer games. More specifically the project aims to inquire the connection between media harm and historical knowledge enabled through World War II first-person shooter.
Publications
Meyer, Julian (2009): das spiel hat seine regeln. erwerb von in einem counter-strike profi-clan. In: Meyer, Julian et al., Herausgeber. (2009): projekt: wissen. Von Datenbergen, Informationsströmen und Wissensgenerierung. Frankfurt am Main: Institut für Kulturanthropologie und Europäische Ethnologie (Kulturanthropologische Notizen, Band 77). S. 151-179.