Pursuing the Salt Men of Zanjan – Mining Archaeologists from Bochum back in Iran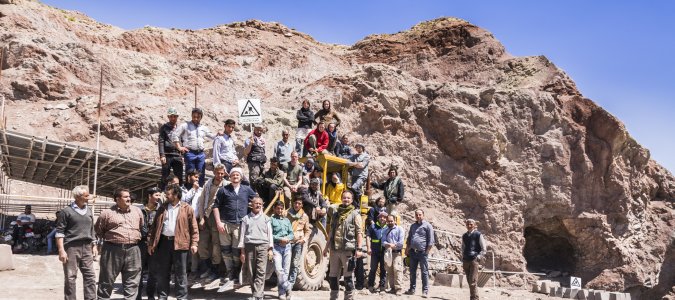 Archaeologists from the German Mining Museum and Ruhr-University Bochum under the direction of Prof. Dr. Thomas Stöllner are back in Iran to continue their excavation in the ancient salt mine of Chehrabad, Province of Zanjan, Iran.
In the Iranian salt mine of Chehrabad, Province of Zanjan, a window to the past is opened: In the years of 1994, 2004 and 2005 remains of five mummified miners who were killed in a mining accident were uncovered. This catastrophe is a stroke of luck for the archaeologists. Since 2010 an international team examines this mine dating to Achaemenid (6th to 4th century BC) and Sassanian (6th century AD) period.
The archaeologists pick up their work where they left off last year. Work will continue in three trenches as well as on a large profile spanning over a height of approximately 20 meters. Most possibly, the archaeologists will reach the Achaemenid layers which they are particularly interested in. The excavation will be accompanied by scientific analysis covering a range of topics from archaeobotanics, parasitology and archaeozoology to gain a better understanding of the ancient miner's living and working circumstances. Archaeometric analysis using a pXRF (portable X-Ray Fluorescence) device is also planned.
Archaeoinformatics are also included in the daily workflow, covering 3D documentation of the work progress via photogrammetric methods, as well as GIS-based analysis of datasets and a planned coverage of the working area and its surroundings using a multicopter.
It can be taken as a good omen that the Henkel foundation granted new funding for our project within their program "Patrimonies". RUB and DBM will work together during the next three years with the Archaeological Museum Frankfurt, the Natural History Museum Vienna, the Iranian National Museum Teheran as well as the Cultural Heritage Organization of Zanjān to install a new exhibition on the mummies at the Zolfaghari-Museum, to guarantee their preservation by help of further restorations and investigations. A special exhibition of the project will be shown in Germany while many exciting finds can be restored at the famous laboratories of the RGZM in Mainz.